Regional Territories 4
This section contains monthly articles on over two dozen territories. To relive those wonderful days of old, click here.
Wrestlers 4
Enter this section for bios/profiles of various wrestlers from the regional days. To find more out about your favorite pro wrestler, click here.
Stories 4
This section contains stories from the pros themselves told exclusively to Kayfabe Memories. Want to know more as told from the wrestlers themselves? Click here.
Old School Book Reviews4
Click here to find various book reviews from old school wrestlers.
KM Links 4
For tons of links to old school related sites, click
here
.
KM Micro Wrestlers4
What are Micro Wrestlers? Click here
to find out.
KM Interviews... 4
Click here to read exclusive interviews with stars from the regional territories.
www.kayfabememories.com is © 2004 AtomDesigns. All promotional art, characters, logos and other depictions are © their respective owners. All Rights Reserved.
All contents save Wrestler Stories are © Kayfabe Memories.
Website designed and maintained by AtomDesigns © 2004 . If you experience any problems with this site or have any questions, please contact the Webmaster.
- Kris Zellner
This month we will look at some of the best "enhancement talent" aka Jobbers in the history of Jim Crockett Promotions.
Jim Crockett Promotions had many & many "enhancement talent" during their time and a lot of them became big stars in the business later on in their careers, but then there were some who never made it big for some reason and are only known as "enhancement talent" for Jim Crockett Promotions.
Gary Royal – A man that Jim Cornette used to call "the world's biggest midget", Gary started out as one of the premier jobbers in JCP around 1983 and was so until August 15th 1985, where Gary beat Denny Brown to capture the NWA Jr. Heavyweight Title in St. Louis, Missouri. He would only hold it a month though before losing it back to Denny on September 15th 1985 in Atlanta, Georgia which sent Gary back into jobber land where he toiled pretty much the rest of his career. Although, he would become ˝ of JCP's most infamous tag teams as he was a member of The Gladiators (who did the infamous job to the Mulkeys) and the Cruel Connection (whose outfits made them infamous).
Keith Larsen – Keith started out around 1982 and had the blond hair pretty boy look which got him some wins over other jobbers and competitive matches against mid-card guys. Keith started to get popular in 1983 and he got over as the young babyface underdog nicely. Keith got his big break though at Starrcade 84 where he teamed with Ole Anderson against Ivan & Nikita Koloff, Don Kernodle was in Keith & Ole's corner for the match since he just got turned on by the Koloffs earlier. Keith got pinned in the match and his career then went down soon thereafter and in that time it was revealed that Keith was in fact Don Kernodle's real life brother and he wrestled as Rocky Kernodle for the next 2 years after, but disappeared from the business around the beginning of 1987.
Bill White – A man who Bob Caudle once said "He'd take on a Mac Truck", Bill wrestled just about everyone who came down the pike in his career as he graced JCP rings for over 10 years from the mid 70's to the mid 80's. Bill was one of the best workers to be "enhancement talent" ever and was very entertaining in his role. He also got a mask gimmick in JCP in 1980 as "The Scorpion", but that didn't last long. Bill toiled in jobberdom his whole career, but he will always be remembered by the fans & the workers of the era as a great hand to have.
Gene Ligon – Gene started in JCP around 1984 and became a jobber fixture for the next 4 years and Gene also did some refereeing work in his tenure. Gene also got some masked gimmick duty as he was ˝ of the Thunderfoots with Joel Deaton (Gene replaced Vernon Deaton on the team) and ˝ of the Cruel Connection with Gary Royal and sometimes George South. Gene left JCP around 1988 and mostly wrestled in Carolina indies after that where many JCP jobbers ended up going to for dates when their time with JCP ran out.
NEXT MONTH:
We will look at Part II of JCP's greatest "enhancement talent".
If you'd like to discuss the Mid-Atlantic region with other fans, please visit the KM Message Board

KM DVD/VHS Store 4
Click here to purchase DVD or VHS products direct from the official distributors.
KM Replica Masks 4
Click here to purchase pro quality replica wrestling masks of all your favorite old school masked wrestlers.
KM Store 4
The KM Store now features products featuring the GCW logo as well as some other very cool images. To see what's new and to purchase T-Shirts, ball caps, mouse pads and more, click here.
KM Message Board 4
Want to chat with other fans of regional wrestling? This message board has forums for over two dozen promotions. Click here.
KM Belt Gallery 4
This section contains an extensive title belt gallery... images of heavyweight, tag, U.S. and various regional title belts. To view it, click here.
Old School Tape Review 4
Reviews of various PPV's, commercial tapes and regional wrestling TV shows are available in this section. To read more, click here.
Website designed & maintained by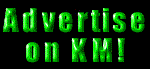 Thanks for visiting!