Regional Territories 4
This section contains monthly articles on over two dozen territories. To relive those wonderful days of old, click here.
Wrestlers 4
Enter this section for bios/profiles of various wrestlers from the regional days. To find more out about your favorite pro wrestler, click here.
Stories 4
This section contains stories from the pros themselves told exclusively to Kayfabe Memories. Want to know more as told from the wrestlers themselves? Click here.
Old School Book Reviews4
Click here to find various book reviews from old school wrestlers.
KM Links 4
For tons of links to old school related sites, click
here
.
KM Micro Wrestlers4
What are Micro Wrestlers? Click here
to find out.
KM Interviews... 4
Click here to read exclusive interviews with stars from the regional territories.
www.kayfabememories.com is © 2004 AtomDesigns. All promotional art, characters, logos and other depictions are © their respective owners. All Rights Reserved.
All contents save Wrestler Stories are © Kayfabe Memories.
Website designed and maintained by AtomDesigns © 2004 . If you experience any problems with this site or have any questions, please contact the Webmaster.
- Kris Zellner
This month we will look at "The Pearl Of The Orient" The Great Kabuki and the impact he made in Jim Crockett Promotions.
In 1982, the Great Kabuki gimmick had become a phenomenon around the country, and the gimmick got way over on WTBS in late 1981 as Kabuki w/Gary Hart as his manager became one of the top heels in the entire world and spawned many imitators around the country. Jim Crockett even got in it by creating "The Ninja" gimmick in 1982 for Mr. Pogo, but no one could do it as good as Kabuki could. So after a big run in World Class Championship Wrestling, Kabuki joined Jim Crockett Promotions in February 1983.
After a few weeks in the territory, Kabuki started feuding with Jimmy Valiant in a feud that would go on for the rest of the year. It all started during a match on TV, where Kabuki sprayed Valiant with red mist in his face and blinded him and in matches after that when Valiant fought Kabuki, he wore goggles over his eyes to protect himself. Also at this time, Kabuki was teaming with the Magic Dragon and they feuded with Valiant & Rufus R. Jones in tag matches and Gary Hart got in the act as well a couple of times and in fact in a cage match between Valiant & Rufus vs. Kabuki & Hart, Hart threw fire at Valiant's face. In June 1983, Kabuki defeated Jos LeDuc for the NWA TV title and that only added to the feud between Valiant & Kabuki as they fought over the belt all over the territory. The feud came to a head in August 1983 as Kabuki defeated Jimmy Valiant in a Loser-Leaves-Town match and Valiant had to leave the area, but a "good friend" of Valiant's came in named "Charlie Brown from outta town". It was obvious to everyone that it was Valiant, but the fans really didn't care at the time and they loved it. "Brown" & Kabuki feuded all the way up until Starrcade 83 where they met in a NWA TV title match which "Brown" won. "Brown" didn't even defend his title as after he won it, he left the area and good ol' Jimmy Valiant returned.
1984 started with Kabuki basically lost in the shuffle. He teamed with Ivan Koloff a little bit in Ivan's feud with the Mosca's, but in March 1984, Junkyard Dog entered the area and Kabuki started a feud with him. The feud was pretty good while it lasted with JYD getting the mist a few times, but both Kabuki and JYD would leave the area in late April. In February 1985, Kabuki returned to JCP with Paul Jones as his manager and he resumed his feud with Jimmy Valiant attacking him many times, but after about a month, Kabuki left the area for good.
NEXT MONTH:
We will look at the year 1984, which would be a transitional year for Jim Crockett Promotions that would be the foundation of a huge run that would last until 1988.
If you'd like to discuss the Mid-Atlantic region with other fans, please visit the KM Message Board

KM DVD/VHS Store 4
Click here to purchase DVD or VHS products direct from the official distributors.
KM Replica Masks 4
Click here to purchase pro quality replica wrestling masks of all your favorite old school masked wrestlers.
KM Store 4
The KM Store now features products featuring the GCW logo as well as some other very cool images. To see what's new and to purchase T-Shirts, ball caps, mouse pads and more, click here.
KM Message Board 4
Want to chat with other fans of regional wrestling? This message board has forums for over two dozen promotions. Click here.
KM Belt Gallery 4
This section contains an extensive title belt gallery... images of heavyweight, tag, U.S. and various regional title belts. To view it, click here.
Old School Tape Review 4
Reviews of various PPV's, commercial tapes and regional wrestling TV shows are available in this section. To read more, click here.
Website designed & maintained by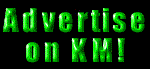 Thanks for visiting!