Regional Territories 4
This section contains monthly articles on over two dozen territories. To relive those wonderful days of old, click here.
Wrestlers 4
Enter this section for bios/profiles of various wrestlers from the regional days. To find more out about your favorite pro wrestler, click here.
Stories 4
This section contains stories from the pros themselves told exclusively to Kayfabe Memories. Want to know more as told from the wrestlers themselves? Click here.
Old School Book Reviews4
Click here to find various book reviews from old school wrestlers.
KM Links 4
For tons of links to old school related sites, click
here
.
KM Micro Wrestlers4
What are Micro Wrestlers? Click here
to find out.
KM Interviews... 4
Click here to read exclusive interviews with stars from the regional territories.
www.kayfabememories.com is © 2004 AtomDesigns. All promotional art, characters, logos and other depictions are © their respective owners. All Rights Reserved.
All contents save Wrestler Stories are © Kayfabe Memories.
Website designed and maintained by AtomDesigns © 2004 . If you experience any problems with this site or have any questions, please contact the Webmaster.
- Jason Hess
Hello Kayfabe Memories fans and readers!!! Welcome to the next installment of Houston Wrestling, and I hope you enjoy it. In this edition of our journal, we will take a look back at my first trip to the home of Houston Wrestling, the Sam Houston Coliseum.
June 1984:
In Houston, summers are very very hot to say the least. And with the oil bust having just hit, the summer of 1984 was hotter than ever. However, Mid-South Wrestling was still drawing fans despite the economic crunch that had hit Houston, and later the entire state of Texas and Oklahoma. In fact, for Bill Watts to last as long as he did in the Houston market back then, (which wouldnít recover until the late 80s) was amazing. But June 1984 saw Mid South at the Coliseum, with a near sell out crowd.
My mom and sister had gone to great lengths to surprise me with tickets to the matches. I was having my 11th birthday, and was a big fan of Mid-South. So the three of us packed into my momís Mazda RX7, and headed off to the Coliseum. There was a traffic jam outside the Coliseum, something my mom and sister did not expect. They really didnít think wrestling would pack the Coliseum like it did that night.
We were a bit late, and missed the opening bout with mid-card jobber Mark Ragin. We settled into our seats, in the second deck of the Coliseum for a night of action. Let me say that my mom and sister were not avid fans of wrestling, and were basically afraid for their lives. I was having the time of my life. This was my first wrestling card ever, and I was going to remember everything I possibly could.
The Shifts:
What I didnít know at the time, was that there were some major shifts going on backstage behind the scenes. Gone were some familiar faces, like the Junkyard Dog, and Butch Reed (Reed would return for another long stint in 1985-6). And, instead of the Dog as the lead face, that responsibility was shared by Hacksaw Jim Duggan and Magnum T.A., with Duggan carrying the lionís share. Bill Dundee was now the head booker for Mid-South, although he had yet to make his on screen debut. He brought with him (as noted in Tim Dillsí excellent Memphis 1983 and 1984 columns, and with Max Levyís column on Mid-South itself) two tag teams that would change the face of Mid-South Wrestling forever.
More...
If you'd like to discuss the Houston region with other fans, please visit the KM Message Board

KM DVD/VHS Store 4
Click here to purchase DVD or VHS products direct from the official distributors.
KM Replica Masks 4
Click here to purchase pro quality replica wrestling masks of all your favorite old school masked wrestlers.
KM Store 4
The KM Store now features products featuring the GCW logo as well as some other very cool images. To see what's new and to purchase T-Shirts, ball caps, mouse pads and more, click here.
KM Message Board 4
Want to chat with other fans of regional wrestling? This message board has forums for over two dozen promotions. Click here.
KM Belt Gallery 4
This section contains an extensive title belt gallery... images of heavyweight, tag, U.S. and various regional title belts. To view it, click here.
Old School Tape Review 4
Reviews of various PPV's, commercial tapes and regional wrestling TV shows are available in this section. To read more, click here.
Website designed & maintained by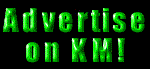 Thanks for visiting!