Regional Territories 4
This section contains monthly articles on over two dozen territories. To relive those wonderful days of old, click here.
Wrestlers 4
Enter this section for bios/profiles of various wrestlers from the regional days. To find more out about your favorite pro wrestler, click here.
Stories 4
This section contains stories from the pros themselves told exclusively to Kayfabe Memories. Want to know more as told from the wrestlers themselves? Click here.
Old School Book Reviews4
Click here to find various book reviews from old school wrestlers.
KM Links 4
For tons of links to old school related sites, click
here
.
KM Micro Wrestlers4
What are Micro Wrestlers? Click here
to find out.
KM Interviews... 4
Click here to read exclusive interviews with stars from the regional territories.
www.kayfabememories.com is © 2004 AtomDesigns. All promotional art, characters, logos and other depictions are © their respective owners. All Rights Reserved.
All contents save Wrestler Stories are © Kayfabe Memories.
Website designed and maintained by AtomDesigns © 2004 . If you experience any problems with this site or have any questions, please contact the Webmaster.
- Rhiannon
I've never classified myself as a 'wrestling historian'. I've always considered myself to be a fan of the sport, the show, the business. Not the 'show business'- that's another animal entirely. Wrestling puts on shows, and it is a business, but it's not show business.
As the years have gone by and I have forgotten most of what I remembered about wrestling, I've learned so much more that I've realized I didn't really know anything in the first place. Kayfabe Memories was the first website I ever came across on the internet that discussed Houston Wrestling. I was thrilled to learn that I wasn't the only fan who pined for the pride of the Sam Houston Coliseum. I've read about fights and feuds that I hadn't remembered even happening until the reading stirred the memories in the nooks and crannies of my mind. And finally, I found a now good friend who got some of those Saturday nights at 10:30 on tape. He shared some with me, and I sat down a few Sundays ago to watch the first Houston Wrestling I've seen in fifteen years.
I plunked in a tape made in 1985-86. On my screen popped the Zambuie Express and Kamala the Ugandan Warrior with Skandar Akbar, followed quickly by Cowboy Bill Watts, Wendell Cooley, and Hacksaw Jim Duggan. I stared, almost numbly, at the screen as I watched a match I suddenly remembered viewing when it first aired. The crowd pitched crumpled-up cups at Akbar, and referee Carl Fergie took care of any stray cups that bounced off Akbar's head and into the ring. The entire crowd leaped to its feet with wild fandom as Bill Watts cleared the ring and bailed out Duggan and Cooley, who were being viciously triple-teamed by their enemies.
It struck me that these were the days when the crowd actually sat down to watch the matches, jumping up for joy when something great happened, rather than staying on their feet during the entire concert and sitting only when the cruddy songs played. Around the ring was a simple, short iron fence, probably barely three feet high, and the crowd sat on metal folding chairs. One police officer patrolled each side of the ring, and when the fans got too close to the barriers, they politely sat down when asked by the cops. The fans respected the men in the blue uniforms, sure, but they also respected the men in the squared circle. They were passionate about what they presented to us and it showed. We had no reason not to believe them, to respect them.
The next match on the tape featured a duel between Little Coco and Little Tokyo. My son walked in as Coco kicked out of a pin, throwing Tokyo onto the referee… who tossed him back onto Little Coco. My son was thrilled and exclaimed, "Look, mom… that's wrestling! Little tiny men wrestling!" He sat next to me and started asking questions as Little Coco tricked Little Tokyo into believing that a light was about to crash down into the ring from above. A deep voice, familiar to me, called the play-by-play on the match. The voice explained, "The majority of wrestlers are right-handed," and continued after Tokyo was downed by a Coco head-butt, "…and right-HEADED, too." I laughed, recalling Paul Boesch's cerebral, dictionary-like announcing style. He simply pronounced things as they were and got cheers with little effort. "That's the avalanche hold. The avalanche hold is the one that just tossed him across the ring and landed him with great force."
Coincidentally, the next tape I put in the VCR showed some footage of Paul Boesch speaking into the camera from around 1979. My son wryly observed that the silver microphone Boesch held looked like a Pop-Tarts Snak Stik. I reminded myself that my son's education about the wrestling business was going to be more of an integrative process rather than an immersive one. Lo and behold, the match Boesch covered next was a "rare occurrence", as he himself stated… In this corner, wearing the pink trunks, promoter George Harris the Third, seconded by Bronko Lubich! In THIS corner, wearing the black trunks, Paul Boesch! My son screamed with laughter to hear Boesch's voice-over call Harris "The Pink Elephant", and he announced, "Mom, we want that Paw Butch to win! The one in the black! Go Paw Butch!" After the match ended, Boesch successfully defeating Mr. Elephant, we concluded our wrestling history lesson for the day, to be continued later. More...
If you'd like to discuss the Houston region with other fans, please visit the KM Message Board

KM DVD/VHS Store 4
Click here to purchase DVD or VHS products direct from the official distributors.
KM Replica Masks 4
Click here to purchase pro quality replica wrestling masks of all your favorite old school masked wrestlers.
KM Store 4
The KM Store now features products featuring the GCW logo as well as some other very cool images. To see what's new and to purchase T-Shirts, ball caps, mouse pads and more, click here.
KM Message Board 4
Want to chat with other fans of regional wrestling? This message board has forums for over two dozen promotions. Click here.
KM Belt Gallery 4
This section contains an extensive title belt gallery... images of heavyweight, tag, U.S. and various regional title belts. To view it, click here.
Old School Tape Review 4
Reviews of various PPV's, commercial tapes and regional wrestling TV shows are available in this section. To read more, click here.
Website designed & maintained by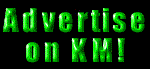 Thanks for visiting!