Regional Territories 4
This section contains monthly articles on over two dozen territories. To relive those wonderful days of old, click here.
Wrestlers 4
Enter this section for bios/profiles of various wrestlers from the regional days. To find more out about your favorite pro wrestler, click here.
Stories 4
This section contains stories from the pros themselves told exclusively to Kayfabe Memories. Want to know more as told from the wrestlers themselves? Click here.
Old School Book Reviews4
Click here to find various book reviews from old school wrestlers.
KM Links 4
For tons of links to old school related sites, click
here
.
KM Micro Wrestlers4
What are Micro Wrestlers? Click here
to find out.
KM Interviews... 4
Click here to read exclusive interviews with stars from the regional territories.
www.kayfabememories.com is © 2004 AtomDesigns. All promotional art, characters, logos and other depictions are © their respective owners. All Rights Reserved.
All contents save Wrestler Stories are © Kayfabe Memories.
Website designed and maintained by AtomDesigns © 2004 . If you experience any problems with this site or have any questions, please contact the Webmaster.
- Jason Hess
Hello and welcome to the latest installment of Houston Wrestling here at Kayfabe Memories.
In this edition of Houston Wrestling memories, we will take up the cause of "jobber appreciation month for June 2003 with a look at a couple of guys who were the ultimate "rags to riches" stories in Houston Wrestling. So, join us as we take a look at "Jobber Appreciation Month" for Houston Wrestling!!
Story One:
At the tender age of 19, he made his debut in the world of wrestling, and by the age of 23, was a star. His picture was taken with "A" list Hollywood celebrities like Farrah Fawcett. He was looking at a future as an actor, but really made his fame inside the ring.
Charles Wolfe is not nor was not known to many fans. His name didn't grace many wrestling programs, nor appears on many title listings. He wasn't a sex symbol for women fans. He wasn't a flamboyant heel or handsome babyface. There was no controversy surrounding who his father was or was not. However……
When we look at the life and career of Gino Hernandez, we can certainly say that he was known to a great deal of fans, especially from 1980-1986. We can positively identify him as not only a program seller, but a ticket seller as well. He wasn't just any champion…for often, he was "your champion." To say that women didn't swoon over him would be to deny reality….despite his penchant for being the flamboyant heel. When he was the handsome babyface, Gino was one of the most popular around. And, as far as the controversy surrounding his father…….we will let people more "in the know" than myself handle that one.
The Start of Something Great:
When Gino Hernandez first started wrestling professionally, he was skinny, and in the prelims. However, he was one story of someone who became widely known after a rocky start. In fact, by the end of 1976, Gino was already tabbed in the wrestling magazines as the next big superstar after a Madison Square Garden showdown against the "Unpredictable" Johnny Rodz.
Gino would be a babyface for the beginning of his career. And, he would meet with success away from "home" as he beat the Sheik for the Detroit U.S. Title. But his true claim to wrestling fame would rest on the other side of the fence….as a heel.
As a heel, Gino would indeed grace the cover of a great deal of wrestling programs, and his name on the marquee would be used to sell thousands of tickets to fans who wanted desperately to see Gino get his due reward from many choices of favorites. Still, although hated, Gino did have his share of women fans, which didn't like his deeds, but did enjoy his looks. Some of Gino's most memorable Houston feuds included his legendary series of matches against Jose "Supersock" Lothario, Mil Mascaras, Dos Caras, and his tag team with Tully Blanchard (The Dynamic Duo) as they faced Ricky Morton and Ken Lucas for the Southwest Tag Team Titles.
As late as 1983, Gino showed that he could still have that babyface appeal, as he turned face on television after Tully Blanchard turned on him…in a match that they won!!! After his face turn, Gino met Tully in Houston ….only in opposition to long-time promoter Paul Boesch. Their match at the Summit (now Compaq Center), while heated, was a part of an "all-star" card that only drew 1,700 fans. Still, Gino was arguably the most popular wrestler with the fans on the card.
After moving to World Class Championship Wrestling in 1984, Gino quickly became one of the main focal points of the heel side as he, along with Chris Adams, warred against the Von Erich brothers for most of 1984-1985. While a mainstay for World Class, Gino would return to the Sam Houston Coliseum for shots against Kerry when World Class and Mid-South had an amicable business relationship. Gino, while not a regular, was one of the most over heels in Houston.
As we all know, Gino sadly died in early 1986. He was still young in wrestling, having been born in 1957, and could STILL be going today, approaching 46 years old. More...
If you'd like to discuss the Houston region with other fans, please visit the KM Message Board

KM DVD/VHS Store 4
Click here to purchase DVD or VHS products direct from the official distributors.
KM Replica Masks 4
Click here to purchase pro quality replica wrestling masks of all your favorite old school masked wrestlers.
KM Store 4
The KM Store now features products featuring the GCW logo as well as some other very cool images. To see what's new and to purchase T-Shirts, ball caps, mouse pads and more, click here.
KM Message Board 4
Want to chat with other fans of regional wrestling? This message board has forums for over two dozen promotions. Click here.
KM Belt Gallery 4
This section contains an extensive title belt gallery... images of heavyweight, tag, U.S. and various regional title belts. To view it, click here.
Old School Tape Review 4
Reviews of various PPV's, commercial tapes and regional wrestling TV shows are available in this section. To read more, click here.
Website designed & maintained by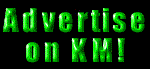 Thanks for visiting!