Regional Territories 4
This section contains monthly articles on over two dozen territories. To relive those wonderful days of old, click here.
Wrestlers 4
Enter this section for bios/profiles of various wrestlers from the regional days. To find more out about your favorite pro wrestler, click here.
Stories 4
This section contains stories from the pros themselves told exclusively to Kayfabe Memories. Want to know more as told from the wrestlers themselves? Click here.
Old School Book Reviews4
Click here to find various book reviews from old school wrestlers.
KM Links 4
For tons of links to old school related sites, click
here
.
KM Micro Wrestlers4
What are Micro Wrestlers? Click here
to find out.
KM Interviews... 4
Click here to read exclusive interviews with stars from the regional territories.
www.kayfabememories.com is © 2004 AtomDesigns. All promotional art, characters, logos and other depictions are © their respective owners. All Rights Reserved.
All contents save Wrestler Stories are © Kayfabe Memories.
Website designed and maintained by AtomDesigns © 2004 . If you experience any problems with this site or have any questions, please contact the Webmaster.
- Jason Hess
Hello and welcome to the latest installment of Houston Wrestling here at Kayfabe Memories.
In this edition of Houston Wrestling memories, we will look back at one historic night. While it will take a while to set up, once we have the pieces in place, the story will come alive for all of us. Sadly, it was truly one of the "Last" big appearances for one star….the "Start" for another, and the seeds were planted for one of the greatest feuds ever seen in Mid-South or Houston. As we stated last week, by 1984, there weren't too many "Houston only" feuds. However, this one was big enough to capture the attention of an entire region….and Houston as well!!
Spring 1984
Rewind:
THE BELT
As Jim Cornette and his Midnight Express vaulted their way to the top of the tag team rankings in Mid-South, they soon ran across the then Mid-South tag team champions, Magnum T.A., and Mr. Wrestling II. At the time, II and T.A. were in the process of going their separate ways. Once teacher-to-mentor, II had shown subtle signs and hints of both turning towards a darker philosophy of wrestling, and being upset with the "lack of respect" given him by his younger protégé. The feud between II and T.A. started directly at the hands of The Midnight Express. One day after capturing the North American title from Junkyard Dog in New Orleans in a loser leaves town match (March 12, 1984), II and T.A. went into a match against the Express for the Mid-South tag team titles in Lafayette, Louisiana with unique stipulations. It was a whipping match…with the losers (Cornette included if his team were beat) getting lashed with a belt. Not only did II walk out of his half of the Mid-South tag team titles, he also walked into a feud that would make his young student a star.
At the climax of the match, II walked out on his "pupil," leaving T.A. to fend for himself. Not only did II walk out of his half of the Mid-South tag team titles, he also walked into a feud that would make his young student a star.
T.A. was no match for the Express, and mere minutes later, Jim Cornette and the Midnight Express had their first of two Mid-South tag team titles. T.A. would have to serve the punishment for both men….but was saved from half by friend and recent newcomer Terry Taylor, which would endear Taylor to Mid-South fans across the territory.
THE CAKE
With the Mid-South tag team titles in their ownership, Jim Cornette decided to throw a "victory" party, complete with cake and all. Cornette made it clear that Jim Ross and the fans at the Shreveport, Louisiana Irish McNeil Boys Club were "NOT" invited to his party!!! There was cake….and even a little champagne. Cornette was quick to note that he usually didn't let his men have cake and champagne…but what the hey…this was a celebration!!
Just to rub it into the fans at home and in attendance, Cornette sent Dennis Condrey and Bobby Eaton around the ring to antagonize the fans by showing them how "they have a good time." And as soon as they did… disaster struck for Cornette. As the Midnights were away from their manager, Ricky Morton and Robert Gibson came up from behind and ran Cornette's face into the cake, causing him to slip and fall to the floor. The entire place, including Jim Ross, Boyd Pierce, and Bill Watts himself, came unglued at the sight of Cornette covered in cake and dripping icing.
After some matches, Watts decided that the incident was so funny that he played it again before the end. And in doing so, Watts set into motion a "Shooting Star" feud that would explode very quickly over Mid-South…and Houston.
More...
If you'd like to discuss the Houston region with other fans, please visit the KM Message Board

KM DVD/VHS Store 4
Click here to purchase DVD or VHS products direct from the official distributors.
KM Replica Masks 4
Click here to purchase pro quality replica wrestling masks of all your favorite old school masked wrestlers.
KM Store 4
The KM Store now features products featuring the GCW logo as well as some other very cool images. To see what's new and to purchase T-Shirts, ball caps, mouse pads and more, click here.
KM Message Board 4
Want to chat with other fans of regional wrestling? This message board has forums for over two dozen promotions. Click here.
KM Belt Gallery 4
This section contains an extensive title belt gallery... images of heavyweight, tag, U.S. and various regional title belts. To view it, click here.
Old School Tape Review 4
Reviews of various PPV's, commercial tapes and regional wrestling TV shows are available in this section. To read more, click here.
Website designed & maintained by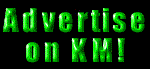 Thanks for visiting!