Regional Territories 4
This section contains monthly articles on over two dozen territories. To relive those wonderful days of old, click here.
Wrestlers 4
Enter this section for bios/profiles of various wrestlers from the regional days. To find more out about your favorite pro wrestler, click here.
Stories 4
This section contains stories from the pros themselves told exclusively to Kayfabe Memories. Want to know more as told from the wrestlers themselves? Click here.
Old School Book Reviews4
Click here to find various book reviews from old school wrestlers.
KM Links 4
For tons of links to old school related sites, click
here
.
KM Micro Wrestlers4
What are Micro Wrestlers? Click here
to find out.
KM Interviews... 4
Click here to read exclusive interviews with stars from the regional territories.
www.kayfabememories.com is © 2004 AtomDesigns. All promotional art, characters, logos and other depictions are © their respective owners. All Rights Reserved.
All contents save Wrestler Stories are © Kayfabe Memories.
Website designed and maintained by AtomDesigns © 2004 . If you experience any problems with this site or have any questions, please contact the Webmaster.
- Jason Hess
Hello and welcome to the latest installment of Houston Wrestling here at Kayfabe Memories.
In this edition of Houston Wrestling memories, we will once again take a look at how Houston Wrestling was perhaps the most unique "territory" in the United States. Ever the one for continuity, Paul Boesch was able to take an existing storyline from one company…..and switch it to another one.
Rewind:
A Face Turn Like No Other: One of the greatest face turns of all time is the late 1985 turn of Ted DiBiase (chronicled greatly in the Mid-South section of KM!!). At the time, DiBiase was one of the leading heels in wrestling, but through the master story-telling of Bill Watts, DiBiase went from heel to face within the span of one 60 minute Mid-South television program. Basically, Ric Flair and Dick Murdoch were the catalysts for DiBiase's face turn, and from that moment on, fans across Mid-South fell in love with "Teddy." His turn was so powerful that almost by default, his tag team partner Steve Williams turned babyface as well!!!
Play x 2:
A Sticky Situation: From late 1985-May 1987, Ted DiBiase was one of the lead babyfaces in the UWF. During that time, he had extended feuds with Dick Murdoch, the Sheepherders (with Steve Williams), the Freebirds, and One Man Gang. Although DiBiase was not the lead babyface during his time (due to Hacksaw Duggan and later Dr. Death himself), he was always in the thick of the action.
However, winds of change began to blow into the UWF in early 1987. By then, the UWF was beginning to lose money due to a weakened economy in most of its touring and television region. Top babyface Hacksaw Duggan had already left to join the WWF, debuting right before WrestleMania 3. DiBiase and Doc were still going fairly strong, with Dibiase moving into a consistent challenger role for then UWF champion One Man Gang. That role changed also, as Gang abruptly left the UWF shortly after dropping the UWF title to Big Bubba Rogers. (which happened shortly after the sale of the UWF to Jim Crockett Promotions) DiBiase was left without a true angle for himself. For a while, his character had no direction.
Things were looking up however. When he met with Jim Crockett to discuss his role in the company, DiBiase was reportedly offered a huge contract, and was allowed to keep up his Japan tours, which brought him additional income. In fact, DiBiase was seemingly headed for a heel turn, as he was supposed to wrestle long time partner Williams in a "number one contender's match" in mid-May 1987. There was just one problem: DiBiase never made the match.
Before the scheduled match with Doc on May 17, 1987 at the UWF television tapings in Tulsa, Oklahoma, DiBiase shocked industry insiders by signing to wrestle with the WWF. His signing was quite unexpected, considering that he was considered by many to be one of the best workers in the world. Being a great worker was not the key to success in Titan Sports during that period of time. However, once the Million Dollar Man gimmick was established, Dibiase became a main event level heel for most of 1988 with the WWF.
DiBiase wasn't the only Mid-South mainstay to switch his allegiance to the WWF. As already mentioned, Hacksaw Duggan had made his way "up north." So had Paul Boesch. The longtime Houston promoter had switched to WWF programming and cards in April 1987. And here is where the story really gets good.
The debut card at the Sam Houston Coliseum for the WWF was held on May 15, 1987. The show was a moderate success, drawing nearly $60,000 with the two main attractions being the Houston return of Hacksaw Duggan against Nikolai Volkoff (the two had a huge rivalry in Mid-South in 1983-84), and an Intercontinental title match between Rick Steamboat and Randy Savage. More...
If you'd like to discuss the Houston region with other fans, please visit the KM Message Board

KM DVD/VHS Store 4
Click here to purchase DVD or VHS products direct from the official distributors.
KM Replica Masks 4
Click here to purchase pro quality replica wrestling masks of all your favorite old school masked wrestlers.
KM Store 4
The KM Store now features products featuring the GCW logo as well as some other very cool images. To see what's new and to purchase T-Shirts, ball caps, mouse pads and more, click here.
KM Message Board 4
Want to chat with other fans of regional wrestling? This message board has forums for over two dozen promotions. Click here.
KM Belt Gallery 4
This section contains an extensive title belt gallery... images of heavyweight, tag, U.S. and various regional title belts. To view it, click here.
Old School Tape Review 4
Reviews of various PPV's, commercial tapes and regional wrestling TV shows are available in this section. To read more, click here.
Website designed & maintained by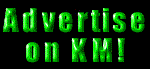 Thanks for visiting!