Regional Territories 4
This section contains monthly articles on over two dozen territories. To relive those wonderful days of old, click here.
Wrestlers 4
Enter this section for bios/profiles of various wrestlers from the regional days. To find more out about your favorite pro wrestler, click here.
Stories 4
This section contains stories from the pros themselves told exclusively to Kayfabe Memories. Want to know more as told from the wrestlers themselves? Click here.
Old School Book Reviews4
Click here to find various book reviews from old school wrestlers.
KM Links 4
For tons of links to old school related sites, click
here
.
KM Micro Wrestlers4
What are Micro Wrestlers? Click here
to find out.
KM Interviews... 4
Click here to read exclusive interviews with stars from the regional territories.
www.kayfabememories.com is © 2004 AtomDesigns. All promotional art, characters, logos and other depictions are © their respective owners. All Rights Reserved.
All contents save Wrestler Stories are © Kayfabe Memories.
Website designed and maintained by AtomDesigns © 2004 . If you experience any problems with this site or have any questions, please contact the Webmaster.
- Jason Hess
Hello and welcome to the latest installment of Houston Wrestling here at Kayfabe Memories.
In this edition of Houston Wrestling memories, we will take a look at how wrestling in Houston has changed so much, as evidenced by the September 30, 2002 "pre-Necro" Raw. We are going to compare the modern……to the classic. Join us as we examine an era gone by…by looking at the present wrestling scene.
WWE Raw
Production: Say what you want to (and I am sure that you have) about storylines and angles currently put into play in WWE, but for years WWE has been the standard bearer as far as production values in pro wrestling. Feud recap pieces that were used on Raw were excellent. I don't know this for sure, but I bet that the production staff of WWE works more hours than just about anyone else in the company. I recently tried to edit 20 minutes worth of raw footage on a video tape down to a 3 minute segment, and it took me nearly four hours to get it right. I can't imagine all of the other graphics and segments that WWE produces on a weekly basis. Perhaps one of the best pieces of the night was the initial Randy Orton "legend in the making" piece. It had the feel of a classic NFL film with the music and the grainy type of film. Production in WWE was excellent..…even when the angles were less than excellent.
Action: The action on Raw ranged from good to bad. However, two matches come to mind as reminiscent of good action. First, HHH and Bubba Ray Dudley met for the World Title. The match was solid, but short. However, the main event of Chris Jericho and Kane was a good 20 minute match, full of peaks and valleys, complete with false finishes and a genuinely (at least live) unpredictable ending. Fans popped huge when Kane won the title, as they had witnessed a story of someone trying to do a rare thing of holding more than one title vs. someone who was cocky enough to try and screw him out of that by employing the services of the world champion and his advisor. While not every match on Raw popped the live crowd, the main event sure did.
Atmosphere: The atmosphere of the Compaq Center is somewhat generic, as Raw's set up has somewhat replaced any "home arena" atmosphere that has existed in the past. However, the atmosphere of a Raw is indeed impressive for those who have never attended live. The pyro, lights, Titan-Tron, etc. is really neat, and for how WWE books television, adds to the experience for the live crowd. Occasionally, during the backstage segments, it was hard to hear due to crowd noise.
Promotion: Unfortunately, this is one area where WWE has slipped in their once high standards. Usually, a big card like Raw would generate huge amounts of radio and television ads. I didn't hear much on the radio, other than a few small ads on the AM sports radio station here in Houston. Also, the only time that there were ads on television was during Raw itself in the weeks preceding the Houston event. Sure, one could go to the website, or Ticketron, but the awareness factor of the event was down compared to events of the past. Furthermore, according to the small amount of the syndicated programming I have seen, there were no local spots letting people know that Raw was coming to town. And, because of it, they received the fruits of their labor. There were maybe 7,000 people in the Compaq Center that night…..coming five months after a near sellout for Smackdown. By the by there was no advertising that I saw for Raw on Smackdown either!!! Also, Houston is above the norm as far as ratings, so there are more fans around the Bayou City than in other parts of the country. More...
If you'd like to discuss the Houston region with other fans, please visit the KM Message Board

KM DVD/VHS Store 4
Click here to purchase DVD or VHS products direct from the official distributors.
KM Replica Masks 4
Click here to purchase pro quality replica wrestling masks of all your favorite old school masked wrestlers.
KM Store 4
The KM Store now features products featuring the GCW logo as well as some other very cool images. To see what's new and to purchase T-Shirts, ball caps, mouse pads and more, click here.
KM Message Board 4
Want to chat with other fans of regional wrestling? This message board has forums for over two dozen promotions. Click here.
KM Belt Gallery 4
This section contains an extensive title belt gallery... images of heavyweight, tag, U.S. and various regional title belts. To view it, click here.
Old School Tape Review 4
Reviews of various PPV's, commercial tapes and regional wrestling TV shows are available in this section. To read more, click here.
Website designed & maintained by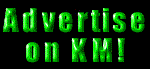 Thanks for visiting!