Regional Territories 4
This section contains monthly articles on over two dozen territories. To relive those wonderful days of old, click here.
Wrestlers 4
Enter this section for bios/profiles of various wrestlers from the regional days. To find more out about your favorite pro wrestler, click here.
Stories 4
This section contains stories from the pros themselves told exclusively to Kayfabe Memories. Want to know more as told from the wrestlers themselves? Click here.
Old School Book Reviews4
Click here to find various book reviews from old school wrestlers.
KM Links 4
For tons of links to old school related sites, click
here
.
KM Micro Wrestlers4
What are Micro Wrestlers? Click here
to find out.
KM Interviews... 4
Click here to read exclusive interviews with stars from the regional territories.
www.kayfabememories.com is © 2004 AtomDesigns. All promotional art, characters, logos and other depictions are © their respective owners. All Rights Reserved.
All contents save Wrestler Stories are © Kayfabe Memories.
Website designed and maintained by AtomDesigns © 2004 . If you experience any problems with this site or have any questions, please contact the Webmaster.
- Jason Hess
Hello and welcome to the latest installment of Houston Wrestling here at Kayfabe Memories.
In this edition of Houston Wrestling memories, we conclude a two part series of the Best of the Best of Houston Wrestling over the past twenty years. Last month, we examined the Best of the Best, and honestly, forgot some great heels and faces. So, for this edition, we will continue a look at the Best of the Best with some "honorable mentions," and then we will turn our attention to the Worst of the Worst.
Again, in this examination, we are hindered by two very important things: my faulty memories and my faulty opinions. However, thanks to the magic of old wrestling tapes, we can relive some great memories of our favorite performers, no matter if we are "babyface" fans, or "heel" fans.
Today we round out the best of the best, and look at the worst of the worst. Again, if you see someone who should be on a list, but is not, post your response on the Kayfabe Memories message board and let your voice be heard!! Onto some honorable mentions:
Best of the Best: Honorable Mentions
Baby Face:
Steve Williams: The man who took over the torch after Hacksaw Duggan left the WWF, "Doc" was a great face after his heel run ended in 1985. Doc was helped with aligning himself with Ted DiBiase after DiBiase's memorable turn, and was further augmented with his great matches for the UWF title against Terry Gordy in 1986-7. While not the drawing card of other great faces, Doc had plenty of vocal support from us Houstonians.
Butch Reed: They say that the best heels can make the best faces, and for Reed, we got to see that, albeit not enough. After Reed's turn (chronicled excellently by Scott Williams' recent Mid-South columns) in 1985, he feuded with Akbar's Army and Dick Murdoch, and finished up with Dick Slater before becoming "the Natural" in the WWF. Reed was a good face for Houston fans to get behind.
Jake Roberts: See above for Butch Reed. When Jake turned in 1985 to feud with Humongous, he really played up fan support for all it was worth. Jake finished his UWF career as a face, including a memorable series with Dick Slater where Roberts actually won the North American title for a short while.
The Fantastics: Many have buried Tommy Rogers and Bobby Fulton as Rock-n-Roll Express wannabes, and one could make a strong case for them. However, thanks to their feud with the Sheepherders, the Fantastics were THE team for Houston fans for most of 1986. Rogers and Fulton always worked hard, and worked hard for crowd support.
Best Heel:
Nikolai Volkoff: Although mostly due to the times, and the character he played as a Russian sympathizer, Volkoff was a monster heel in late 1983-84, helping Hacksaw Duggan emerge as a full fledged top babyface. Also, his programs with JYD and Terry Taylor were well done, and helped elevate Taylor in the eyes of the fans. More...
If you'd like to discuss the Houston region with other fans, please visit the KM Message Board

KM DVD/VHS Store 4
Click here to purchase DVD or VHS products direct from the official distributors.
KM Replica Masks 4
Click here to purchase pro quality replica wrestling masks of all your favorite old school masked wrestlers.
KM Store 4
The KM Store now features products featuring the GCW logo as well as some other very cool images. To see what's new and to purchase T-Shirts, ball caps, mouse pads and more, click here.
KM Message Board 4
Want to chat with other fans of regional wrestling? This message board has forums for over two dozen promotions. Click here.
KM Belt Gallery 4
This section contains an extensive title belt gallery... images of heavyweight, tag, U.S. and various regional title belts. To view it, click here.
Old School Tape Review 4
Reviews of various PPV's, commercial tapes and regional wrestling TV shows are available in this section. To read more, click here.
Website designed & maintained by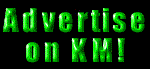 Thanks for visiting!