Regional Territories 4
This section contains monthly articles on over two dozen territories. To relive those wonderful days of old, click here.
Wrestlers 4
Enter this section for bios/profiles of various wrestlers from the regional days. To find more out about your favorite pro wrestler, click here.
Stories 4
This section contains stories from the pros themselves told exclusively to Kayfabe Memories. Want to know more as told from the wrestlers themselves? Click here.
Old School Book Reviews4
Click here to find various book reviews from old school wrestlers.
KM Links 4
For tons of links to old school related sites, click
here
.
KM Micro Wrestlers4
What are Micro Wrestlers? Click here
to find out.
KM Interviews... 4
Click here to read exclusive interviews with stars from the regional territories.
www.kayfabememories.com is © 2004 AtomDesigns. All promotional art, characters, logos and other depictions are © their respective owners. All Rights Reserved.
All contents save Wrestler Stories are © Kayfabe Memories.
Website designed and maintained by AtomDesigns © 2004 . If you experience any problems with this site or have any questions, please contact the Webmaster.
- Jason Hess
Hello and welcome to the latest installment of Houston Wrestling here at Kayfabe Memories. For those of us who still watch WWE programming, we have seen a "worst of the worst" kind of week, not even a month after one of the most well promoted PPV's of the year in SummerSlam 2002. After getting our hopes up with an excellent build up, we have seen things in the past week that would have many readers…and wrestlers shaking their heads in disbelief. This business can be a tricky thing for us fans, especially those with long memories…..kayfabe memories!!!
In this edition of Houston Wrestling memories, we will take a look at a "tricky thing;" The Highs and Lows of Houston Wrestling. In this two part series, we will examine the "Best of the Best," and the worst of the worst. But in this examination we are hindered naturally by two things: my memory, and the fact that at best, any "best of/worst of" piece is significantly hampered by the opinions of the author. Know going in that the author wasn't alive during the Wahoo-Dory "glory" days, so any recollections are purely from the early 1980's onward. Know also that the author was severely disillusioned with the WWF takeover in 1987, and began to phase out of watching until Paul Boesch began to promote NWA wrestling again in 1988. With that disclaimer out of the way, it's also time to ask you the reader to do something unique. I am going to present a few options for your opinion as well. Vote online at the KM Message Board for your picks for the best…and the worst for the time period of the 1980's!! Here are some nominees…but if yours aren't included…add them to the collection!!! Let's go first to the best of the best…..and next month to the worst of the worst:
Best of the Best:
Best Face:
Junkyard Dog: JYD was THE draw in Mid-South, and in Houston until his departure from Mid-South in September 1984 for the WWF. His appeal was unique in that it was multi-ethnic in nature, with folks from all demographics coming out to the Coliseum to cheer on the Dog.
Hacksaw Duggan: The man who "took" the torch from JYD. While some would consider Duggan as a Bruiser Brody styled wrestler, Duggan's charisma was found in his "Joe Everyman" image. Duggan was the mainstay of the UWF until his departure for the WWF in 1987.
Magnum T.A.: He worked his way into the hearts of Houston fans, who saw him come of age against the Midnight Express and Mr. Wrestling II. T.A. was a great face, especially during his second reign as North American champion.
Terry Taylor: Like T.A., but a little more "pretty," Terry Taylor proved that he could hold his own by going against everyone from Butch Reed, to Buddy Roberts, to Dick Slater, to the One Man Gang. Taylor, until his heel turn in 1987 was extremely popular in Houston.
Ted DiBiase: Although a heel for most of the 1980's, DiBiase's face turn, coupled with him and Steve Williams battling the Freebirds for most of 1986, turned him back into a greatly cheered man.
The Rock-N-Roll Express: Although a tag team, the R-n-R never failed to generate excitement and heat amongst fans, especially the female variety. Ricky and Robert had a huge following in Houston. More...
If you'd like to discuss the Houston region with other fans, please visit the KM Message Board

KM DVD/VHS Store 4
Click here to purchase DVD or VHS products direct from the official distributors.
KM Replica Masks 4
Click here to purchase pro quality replica wrestling masks of all your favorite old school masked wrestlers.
KM Store 4
The KM Store now features products featuring the GCW logo as well as some other very cool images. To see what's new and to purchase T-Shirts, ball caps, mouse pads and more, click here.
KM Message Board 4
Want to chat with other fans of regional wrestling? This message board has forums for over two dozen promotions. Click here.
KM Belt Gallery 4
This section contains an extensive title belt gallery... images of heavyweight, tag, U.S. and various regional title belts. To view it, click here.
Old School Tape Review 4
Reviews of various PPV's, commercial tapes and regional wrestling TV shows are available in this section. To read more, click here.
Website designed & maintained by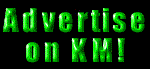 Thanks for visiting!