Regional Territories 4
This section contains monthly articles on over two dozen territories. To relive those wonderful days of old, click here.
Wrestlers 4
Enter this section for bios/profiles of various wrestlers from the regional days. To find more out about your favorite pro wrestler, click here.
Stories 4
This section contains stories from the pros themselves told exclusively to Kayfabe Memories. Want to know more as told from the wrestlers themselves? Click here.
Old School Book Reviews4
Click here to find various book reviews from old school wrestlers.
KM Links 4
For tons of links to old school related sites, click
here
.
KM Micro Wrestlers4
What are Micro Wrestlers? Click here
to find out.
KM Interviews... 4
Click here to read exclusive interviews with stars from the regional territories.
www.kayfabememories.com is © 2004 AtomDesigns. All promotional art, characters, logos and other depictions are © their respective owners. All Rights Reserved.
All contents save Wrestler Stories are © Kayfabe Memories.
Website designed and maintained by AtomDesigns © 2004 . If you experience any problems with this site or have any questions, please contact the Webmaster.
- Jason Hess
Hello and welcome to the latest installment of Houston Wrestling here at Kayfabe Memories. As I read about this business, one phrase keeps slashing to the forefront of my mind…."Never say never." Just this year, we have seen the return of three men to the WWF who left on less than stellar terms. Just this summer we have seen perhaps the most surreal moment in wrestling history with Vince McMahon and Eric Bischoff "hugging" at the top of the Raw entrance ramp. Truly, for this author, I can "never" say never in looking at where wrestling is going, and where it has gone.
In this edition of Houston Wrestling memories, we will take a look at a "never say never" situation, with a look at what could be called the last year of "Boesch-based" Houston Wrestling history as we examine 1988. 1988 would see the return of Paul Boesch promoting cards in Houston. Seemingly, happy days were here again…..or were they?
Rewind:
Last month, we took a look at one of the most controversial years in Houston Wrestling history, 1987. That year changed everything for longtime fans of Houston Wrestling. At the start of the year, it was status quo with the stars of the UWF, but by the end of the year, it was anything but status quo. Paul Boesch had retired, and seemingly, the "good old days" were gone forever due to the involvement of the WWF. While crowds at the Coliseum were fairly strong for the WWF, needless to say, the atmosphere was very different.
Winter: The WWF was shaping up for a shake-up. 1987 was a booming success in large part to the heel turn of Andre The Giant, and his subsequent match at WrestleMania 3 against Hulk Hogan. Their match, and their angle after Survivor Series looked to loom large into 1988. After the contract signing angle at the January 1988 Royal Rumble, anticipation was building to the February prime time NBC "Main Event." As most readers, know, the shake-up was Andre beating Hogan only to give the title to Ted DiBiase….because DiBiase had bought the belt. The angle that saw DiBiase chase Hogan's WWF title actually began in Houston, as Hogan's first match against DiBiase was at the Coliseum.
In Houston, there was a shake-up of sorts as well. While Coliseum cards were doing decent, there began to be more and more time in between each card. Back in 1988, it wasn't uncommon for the WWF to run a town every other month, to once every three months. But for fans in Houston, who were used to weekly or bi-monthly action, the wait was often grueling. What we didn't know was that Paul Boesch was planning to come out of retirement…but not to promote the WWF.
Spring:
While the WWF was gearing up for WrestleMania, Jim Crockett Promotions was well, just gearing up for survival.

After purchasing and subsequently squandering a great interpromotional angle with the UWF, Crockett started to lose money, most specifically at Starrcade 1987 with pay per view money.

In his mind, and in the mind of booker Dusty Rhodes, it was time to pull out any and all stops to get fan attention.

Popular Houston and Mid-Atlantic/JCP star Magnum T.A., who had been in and out of storyline action since April 1987, was attacked at the TBS studios by Tully Blanchard after the two had been "speaking" about certain things.

Even J.J. Dillon tried to pull Tully off of Magnum.
More...
If you'd like to discuss the Houston region with other fans, please visit the KM Message Board

KM DVD/VHS Store 4
Click here to purchase DVD or VHS products direct from the official distributors.
KM Replica Masks 4
Click here to purchase pro quality replica wrestling masks of all your favorite old school masked wrestlers.
KM Store 4
The KM Store now features products featuring the GCW logo as well as some other very cool images. To see what's new and to purchase T-Shirts, ball caps, mouse pads and more, click here.
KM Message Board 4
Want to chat with other fans of regional wrestling? This message board has forums for over two dozen promotions. Click here.
KM Belt Gallery 4
This section contains an extensive title belt gallery... images of heavyweight, tag, U.S. and various regional title belts. To view it, click here.
Old School Tape Review 4
Reviews of various PPV's, commercial tapes and regional wrestling TV shows are available in this section. To read more, click here.
Website designed & maintained by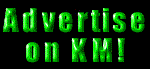 Thanks for visiting!