Regional Territories 4
This section contains monthly articles on over two dozen territories. To relive those wonderful days of old, click here.
Wrestlers 4
Enter this section for bios/profiles of various wrestlers from the regional days. To find more out about your favorite pro wrestler, click here.
Stories 4
This section contains stories from the pros themselves told exclusively to Kayfabe Memories. Want to know more as told from the wrestlers themselves? Click here.
Old School Book Reviews4
Click here to find various book reviews from old school wrestlers.
KM Links 4
For tons of links to old school related sites, click
here
.
KM Micro Wrestlers4
What are Micro Wrestlers? Click here
to find out.
KM Interviews... 4
Click here to read exclusive interviews with stars from the regional territories.
www.kayfabememories.com is © 2004 AtomDesigns. All promotional art, characters, logos and other depictions are © their respective owners. All Rights Reserved.
All contents save Wrestler Stories are © Kayfabe Memories.
Website designed and maintained by AtomDesigns © 2004 . If you experience any problems with this site or have any questions, please contact the Webmaster.
- Jason Hess
Hello and welcome to the latest installment of Houston Wrestling here at Kayfabe Memories. Occasionally life gives us some unexpected joys, and breaks. In researching for this month's article, I was given both. I will check the Message Board of Kayfabe Memories with regularity. A few weeks ago, I noticed that there was an opportunity for me that I couldn't pass up. Trust me, I would have been a fool to even think about passing this opportunity up. Fortunately, I get to pass this treat onto our readers!!! With this installment, we are privileged to take a look at a most interesting history of Houston Wrestling provided by a man who should know the most about it.
Houston Wrestling promoter Paul Boesch wrote an autobiography about his career in the wrestling business that was completed shortly before his death in March 1989. The book was entitled "Hey, Boy! Where'd You Get Them Ears?" Obviously this was a reference to the legendary "cauliflower" ears sported by Boesch that were immortalized forever in a local jewelry commercial that aired for nearly five years here in Houston. However, for reasons unbeknownst to me, the book was never published. (Information supplied by a very reliable source posting on the Kayfabe Memories Houston Message Board: the WWF's own Dr. Tom Prichard) However, as I was checking the board some time ago, I discovered thanks to Greg Oliver that the book was and now is available in Houston!!! With an introduction from long time wrestling great Red Bastien written in 2001, and pictures of greats from different eras, this book is a prized possession of mine, and is a must for history buffs.
This will not be treated as a book review, as there numerous ones out there. If you are interested in where the book reviews are, or how to get a copy of this book, please visit the Kayfabe Memories Message Board. Under the Houston section, there is a thread that is dedicated to discussing the book and where it can be obtained, book reviews, etc. Our goal in this installment is to simply whet the appetite by providing some facts about Boesch and some of the things he talks about in his book. Since the book is copyrighted, I can not provide much in the way of quotes, nor would I dare plagiarize his work.
More...
If you'd like to discuss the Houston region with other fans, please visit the KM Message Board

KM DVD/VHS Store 4
Click here to purchase DVD or VHS products direct from the official distributors.
KM Replica Masks 4
Click here to purchase pro quality replica wrestling masks of all your favorite old school masked wrestlers.
KM Store 4
The KM Store now features products featuring the GCW logo as well as some other very cool images. To see what's new and to purchase T-Shirts, ball caps, mouse pads and more, click here.
KM Message Board 4
Want to chat with other fans of regional wrestling? This message board has forums for over two dozen promotions. Click here.
KM Belt Gallery 4
This section contains an extensive title belt gallery... images of heavyweight, tag, U.S. and various regional title belts. To view it, click here.
Old School Tape Review 4
Reviews of various PPV's, commercial tapes and regional wrestling TV shows are available in this section. To read more, click here.
Website designed & maintained by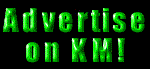 Thanks for visiting!