Regional Territories 4
This section contains monthly articles on over two dozen territories. To relive those wonderful days of old, click here.
Wrestlers 4
Enter this section for bios/profiles of various wrestlers from the regional days. To find more out about your favorite pro wrestler, click here.
Stories 4
This section contains stories from the pros themselves told exclusively to Kayfabe Memories. Want to know more as told from the wrestlers themselves? Click here.
Old School Book Reviews4
Click here to find various book reviews from old school wrestlers.
KM Links 4
For tons of links to old school related sites, click
here
.
KM Micro Wrestlers4
What are Micro Wrestlers? Click here
to find out.
KM Interviews... 4
Click here to read exclusive interviews with stars from the regional territories.
www.kayfabememories.com is © 2004 AtomDesigns. All promotional art, characters, logos and other depictions are © their respective owners. All Rights Reserved.
All contents save Wrestler Stories are © Kayfabe Memories.
Website designed and maintained by AtomDesigns © 2004 . If you experience any problems with this site or have any questions, please contact the Webmaster.
- Mike Norris
I grew up in Mobile, Alabama and discovered Professional Wrestling through the Lee Fields promotion of Gulf Coast Championship Wrestling in 1970. I continued to follow this promotion until its shut down in 1978 and eventual sale of the territory to Ron Fuller's Southeastern Championship Wrestling group from Knoxville, Tennessee (my friend Mike Calloway writes an excellent column on this group).
As an introduction to the Gulf Coast promotion, I will provide some background of the territory before Lee Fields bought in 1959, as well as some discussion of the territory before I came familiar with it in 1970.
Buddy Fuller (Edward Welch), father of Ron and Robert Fuller, began promoting wrestling in Mobile, Alabama in the early 1950s. This area covered the Gulf Coast region of Alabama and northeastern Florida. Buddy was of course a member of the famous Welch wrestling family. In 1954, Buddy's cousin Lee Fields came to Mobile after wrestling in Oklahoma. He brought along his brothers Don and Bobby, as well as their father Virgil "Speedy" Hatfield. The Fields Brothers were the main draws in the territory.
The first Gulf Coast Heavyweight Champion was crowned in May of 1957, after a 14 man tournament. Eduardo Perez defeated Lee Fields in the final match to become the first champion. Others to hold the title in the late 50s were Mario Galento, Billy Wicks, Yvon Roberts, Lee Fields and Buddy Fuller himself.
In 1959, Buddy Fuller sold the Gulf Coast territory to Lee Fields, who took over as promoter. Lee also relinquished the Gulf Coast title because it was determined by the Alabama Boxing and Wrestling commission that he could not promote and remain an active wrestler. Lee did remain active as a wrestler in other parts of the Southern U.S., such as Florida, Georgia and Tennessee until retiring as an active competitor in the late 1960s. Brothers Bobby and Don helped run the Mobile booking office covering Mobile and Pensacola, Florida. As Lee expanded the territory, father Speedy Hatfield served as matchmaker in Hattisburg, Mississippi and Rocky McGuire was the matchmaker in Dothan, Alabama and Panama City, Florida.
The Gulf Coast championship was held at various times during this period by Mario Galento, Billy Wicks, Joe Scarpa (Chief Jay Strongbow), Jose "El Gran" Lothario, Pnaco Villa, Chief Little Eagle w/mgr. Bull Williams, Dr. Jerry Graham, "Dynamite" Dick Dunn, Rocket Monroe, Billy " Boy" Hines, Mickey Sharpe, Jan Madrid, Don Duffy, Ken Lucas, Mighty Blue Yankee (Curtis Smith), Chin Lee, Don Carson, "Dangerous" Danny McShain, Ramon Torres, Eduardo Perez, Greg Peterson, Flash Monroe, Ox Baxer, Bobby Fields, Silento Rodriguez and Jose Villa.
The United States Tag Team Title was recognized in the area for a time in the mid 60s. The most renowned title holders being The Dirty Daltons, Jack (Don Fargo) and Frank (Gene Stevens). The Gulf Coast Tag Team title was held variously during this time by "Cousins" Roger Kirby & Dennis Hall, Don & Ron (Dick Murdoch) Carson, Ken Lucas & Bobby Fields, Rip & Randy Tyler, The Interns (Bill Bowman and Joe Turner), Eddie Sullivan & Ramon Perez, Don Carson & Dick Dunn, Rocket & Flash Monroe and Ken & Chris Lucas.
The Alabama Heavyweight title was also recognized by the Gulf Coast promotion. Wrestlers that held this tile included Gene Madrid, Don Fields, Black Hand (Joe Turner), Ken Lucas, Rocket Monroe, Billy "Boy" Hines and Bob Boyer.
Other active wrestlers in the territory during the 60s were Jimmy "Bad Boy" Hines, Bob Armstrong, Matt Jewel, Sam Jones, Maurice Chaville, Pancho "Gypsy Joe" Rosario, Cowboy Bob Kelly and Golden Boy Ron Dupree.
NEXT MONTH:
I will start with the year I became aware of Gulf Coast Championship Wrestling, 1970. The year Cowboy Bob Kelly came into his own as the most popular wrestler ever in the territory and the arrival of the man who became the most hated, Mr. Personality, Bobby Shane.
In preparation of this column, my thanks go out to David Williamson, Scott Teal, Royal Duncan and Gary Will.

KM DVD/VHS Store 4
Click here to purchase DVD or VHS products direct from the official distributors.
KM Replica Masks 4
Click here to purchase pro quality replica wrestling masks of all your favorite old school masked wrestlers.
KM Store 4
The KM Store now features products featuring the GCW logo as well as some other very cool images. To see what's new and to purchase T-Shirts, ball caps, mouse pads and more, click here.
KM Message Board 4
Want to chat with other fans of regional wrestling? This message board has forums for over two dozen promotions. Click here.
KM Belt Gallery 4
This section contains an extensive title belt gallery... images of heavyweight, tag, U.S. and various regional title belts. To view it, click here.
Old School Tape Review 4
Reviews of various PPV's, commercial tapes and regional wrestling TV shows are available in this section. To read more, click here.
Website designed & maintained by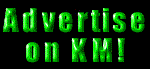 Thanks for visiting!