Regional Territories 4
This section contains monthly articles on over two dozen territories. To relive those wonderful days of old, click here.
Wrestlers 4
Enter this section for bios/profiles of various wrestlers from the regional days. To find more out about your favorite pro wrestler, click here.
Stories 4
This section contains stories from the pros themselves told exclusively to Kayfabe Memories. Want to know more as told from the wrestlers themselves? Click here.
Old School Book Reviews4
Click here to find various book reviews from old school wrestlers.
KM Links 4
For tons of links to old school related sites, click
here
.
KM Micro Wrestlers4
What are Micro Wrestlers? Click here
to find out.
KM Interviews... 4
Click here to read exclusive interviews with stars from the regional territories.
www.kayfabememories.com is © 2004 AtomDesigns. All promotional art, characters, logos and other depictions are © their respective owners. All Rights Reserved.
All contents save Wrestler Stories are © Kayfabe Memories.
Website designed and maintained by AtomDesigns © 2004 . If you experience any problems with this site or have any questions, please contact the Webmaster.
- Mike Norris
Welcome back to our continuing time machine tour of the Gulf Coast Wrestling promotion. It's been awhile since I have posted a write-up here at Kayfabe Memories, so I hope this one is worth the wait.
This time we want to look at the year of 1959. Big changes are in store for the Gulf Coast area as the decade of the 1950s comes to an end. The territory becomes a virtual family reunion, as the territory is flooded with brother tag teams and even a father and son team. By the end of the year an opposition promotion rears its head and the ownership of Gulf Coast Wrestling changes hands as well. So let's get started.
JANUARY:
Lee Fields ended 1958 by defeating Billy Wicks to win the Gulf Coast title on Christmas night. Lee won the bout in two straight falls, but Wicks had been at a decidedly disadvantage as he had been jumped on the way to the ring by Rocky (Sputnik) Monroe and severely injured. As a result, Lee agreed to give Wicks a rematch after the holiday break had given Wicks sufficient time to heal. Lee should have thought twice about it because Wicks came back to beat Lee on New Year's night to regain the Gulf Coast crown.
The man who had cost him the title in the first place, Monroe, quickly challenged Wicks. Monroe claimed that he was the top contender since he was coming off a victory over the famed Chick Garibaldi. Wicks agreed to the match since he wanted to get his hands on Monroe, but refused to put the title on the line. Wicks tore after Monroe from the opening bell and battered the Sputnik for a full ten minutes. Monroe's eye was blackening and swelling but he gamely fought back and soon was giving as much as he was taking. Wicks and Monroe turned the bout into a full-fledged brawl as they pulled each other's hair, choked kicked and punched each other. Finally referee Tommy Roland called for the bout to be thrown out but neither man was willing to stop. They continued to batter each other for another twenty minutes until they were finally separated. Both men were a bloody mess as they were led to the dressing room. This match was the beginning of a blood feud, which would move from Mobile to Memphis as these two fought each other for years afterwards.
A rematch was quickly set up and as was the case before, the Gulf Coast title would not be on the line. In the first fall, Monroe took advantage of and elastic elbow brace he was wearing by using it to smother Wicks into submission. After the fall Monroe continued to deliver knee drops to the helpless Wicks despite the efforts of referee Rocky McGuire to stop him. Wicks gained a measure of revenge in the second fall when he battered Monroe about before using his step-over toehold/bridge combination to pin him and take the fall. The third and deciding fall saw Monroe back Wicks into a corner and give him a going over with his fists and his braced elbow. Rocky McGuire was trying to pull Rocky Monroe off of Wicks and finally resorted to pulling him by the hair as Monroe clung to the ropes. Wicks took advantage of this opening and delivered a haymaker to the chin of Monroe. Monroe fell like a ton of bricks and was pinned by Wicks. The fall and the match went to the Gulf Coast champion.
Lee Fields had another instance of bad luck as he teamed with Buddy Fuller to face a new tag team entering the area. Billed as hailing from England and as holders of the British Empire and Canadian Tag Team titles, came The Sharpe Brothers, Mike & Ed. Big Mike Sharpe was actually a Canadian who had teamed with his true brother Ben Sharpe. The Sharpe Brothers were the top tag team on the West Coast and had held many tag team titles. When Ben left the fold, Big Mike recruited an Italian wrestler named Salvatore Baragiola, who adopted the name Ed Sharpe. Big Mike Sharpe would make another contribution to the wrestling world, as he was the father of "Iron" Mike Sharpe, who competed throughout the United States in the late 1970s through the 1990s.
The bout between the Sharpes and Fuller & Fields had the fans on their feet. In the first fall the 6'6", 265 pound Big Mike Sharpe handled both Fuller and Fields single-handedly before pinning Lee Fields to take the fall. In the second, Buddy Fuller had taken the advantage when he hit Ed Sharpe with a series of flying dropkicks.
More...

KM DVD/VHS Store 4
Click here to purchase DVD or VHS products direct from the official distributors.
KM Replica Masks 4
Click here to purchase pro quality replica wrestling masks of all your favorite old school masked wrestlers.
KM Store 4
The KM Store now features products featuring the GCW logo as well as some other very cool images. To see what's new and to purchase T-Shirts, ball caps, mouse pads and more, click here.
KM Message Board 4
Want to chat with other fans of regional wrestling? This message board has forums for over two dozen promotions. Click here.
KM Belt Gallery 4
This section contains an extensive title belt gallery... images of heavyweight, tag, U.S. and various regional title belts. To view it, click here.
Old School Tape Review 4
Reviews of various PPV's, commercial tapes and regional wrestling TV shows are available in this section. To read more, click here.
Website designed & maintained by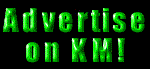 Thanks for visiting!