CWF #9 Page #2
A friend of mine came racing into the classroom, "Gary Hart and his army crashed in an airplane last night! I heard in on the radio on the way to school!"
News of this traveled around our Middle School quickly. Everyone was talking about it. We wondered all day long. Who else was on the plane? Was anybody killed? etc.
Today, news updates are frequent and easy to find. We turn on the TV or go to the Internet and we've got the latest news in seconds. In 1975, we had to wait patiently for the 6 O'Clock News. All we knew was that a professional wrestler had been killed in an early morning plane crash in Tampa Bay.
At 6 pm, we all heard the news for the first time. Robert Shoenberger (better known to the wrestling world as Bobby Shane) had died at the age of 29. He was still strapped in his rear seat in the cockpit when the plane was retrieved from the water. Tampa police said that there were no signs of an "incapacitating injury" he may have received when the plane crashed and that he apparently had drowned before he could free himself.
Wrestler/Manager Gary Hart, Dennis McCord (aka 'Iron Mike" McCord, later to be known as Austin Idol) and Buddy Colt had all sustained injuries described in reprint of the St. Petersburg Times article from Feb. 21, 1975 (see below).
It was a sad day for many wrestling fans around the world as Shane was a very popular, and hated heel. Fans in those days had intense hatred for the "bad guys". I recently listened to an interview with Jack Brisco which was taped earlier this year (2001) where he made reference to this.
Bobby Shane had wrestled his last match in Miami, FL just prior to boarding the ill-fated plane to Tampa. At the next Miami show, when they announced that Bobby Shane had died, the audience actually cheered. Brisco said it has troubled him for many years that people actually cheered about somebody dying.
Bobby Shane's life was cut short at the young age of just 29. He gave his all to the world of professional wrestling. He was one of the greatest wrestling stars of the 1970's and will not soon be forgotten.
Below is a reprint of the article that was published by The St. Petersburg Times about the tragic plane crash that claimed the life of Bobby Shane.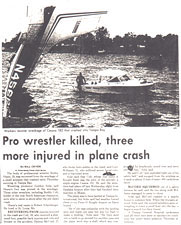 From the St. Petersburg Times, Feb. 21, 1975. Article by St. Petersburg Times Staff Writer, Bill Cryer
Pro Wrestler Killed, Three More Injured in Plane Crash
The body of professional wrestler Bobby Shane, 29 was recovered from the wreckage of a small airplane that crashed early Thursday morning in Tampa Bay.
Wrestling commentator Gordon Solie said Shane's foot was pinned in the wreckage. Three other wrestlers, including Buddy Colt, holder of the Title North American Champion, were able to swim to shore after the pre-dawn crash.
Shane's real name is Robert Shoenberger. He lived in St. Louis, MO.
Recovering from injuries received in the crash are Colt, 39, who received a shattered foot, possible back injuries and cuts and bruises in the accident. Dennis McCord, 27 who broke both ankles in the crash and Gary Williams (aka Playboy Gary Hart), 32, who suffered severe facial cuts, and a fractured wrist.
Solie said that Colt, whose real name is Ronald Reed, was the pilot of the aircraft, a single-engine Cessna 182. He said the wrestlers had taken off late Wednesday night from Opalaka Airport after they had finished their matches in Miami.
The plane was to have landed at Tampa International, but Solie said bad weather forced them to try Peter O. Knight Airport on Davis Island.
"He (Colt) was unfamiliar with the landing area and made one pass but was too high to make a landing," Solie said. "He then went into a bank to go around for another pass and the plane went into a stall, which was compounded by headwinds, nosed over and went into the bay," Solie said.
He said Colt "just exploded right out of his safety belt" and escaped from the airplane as it sank in about 15 feet of water 300 yards from shore.
McCord squirmed out of a safety harness he said, and the two along with Williams managed to swim to shore. Solie said Williams crawled to a nearby house to summon help. When the rescuers arrived, Solie said, the injured wrestlers were attempting to lower a small boat into the bay to begin a search for their friend.
A Tampa General Hospital spokesman said all three men were in satisfactory condition, but under heavy sedation Thursday afternoon.
NEXT MONTH:
Superstar Billy Graham Invades the State of Florida!