Regional Territories 4
This section contains monthly articles on over two dozen territories. To relive those wonderful days of old, click here.
Wrestlers 4
Enter this section for bios/profiles of various wrestlers from the regional days. To find more out about your favorite pro wrestler, click here.
Stories 4
This section contains stories from the pros themselves told exclusively to Kayfabe Memories. Want to know more as told from the wrestlers themselves? Click here.
Old School Book Reviews4
Click here to find various book reviews from old school wrestlers.
KM Links 4
For tons of links to old school related sites, click
here
.
KM Micro Wrestlers4
What are Micro Wrestlers? Click here
to find out.
KM Interviews... 4
Click here to read exclusive interviews with stars from the regional territories.
www.kayfabememories.com is © 2004 AtomDesigns. All promotional art, characters, logos and other depictions are © their respective owners. All Rights Reserved.
All contents save Wrestler Stories are © Kayfabe Memories.
Website designed and maintained by AtomDesigns © 2004 . If you experience any problems with this site or have any questions, please contact the Webmaster.
- Barry Rose
The Invasion Of Eric The Red And
The Tragedy That Followed
In the 10th century, a massive Norse chieftain with a flowing red mane named Eric Thorvaldson roamed the Scandinavian and Northern seas in search of new land to colonize. Banished from Norway after his father murdered a rival, Eric settled in Iceland, only to be exiled from that country after becoming involved in several quarrels that resulted in multiple deaths. This feared Nordic explorer roamed the waters west of Iceland for three years, conducting vicious raids, before eventually discovering Greenland. This Viking is known throughout the annals of history as Eric The Red.
As the cooler winds of autumn arrived upon the sunny shores of Florida in 1978, a veteran wrestler with a reputation for toughness and savagery descended upon the Sunshine State. Standing six feet tall and weighing over three hundred pounds, with long red hair and wielding his ever-present whale bone, Eric Hansen, better known as Eric The Red, was about to enter into Florida wrestling rings. Eric would face the state's top grapplers, and even capture championship gold. Tragically, it would also be the last territory the "Great Dane" would ever compete in.
Eric made his North American wrestling debut in the summer of 1968, competing for Frank Tunney out of Toronto. Adorned in full Viking regalia, twenty-four year old Eric surprisingly worked as a babyface, wrestling heels such as Dutch Momberg (who gained greater fame under the name Killer Karl Krupp), The Assassin, Wild Bull Curry, and Tiger Jeet Singh. He also formed a short-lived tag team with arguably the most popular wrestler in the history of Toronto, former NWA champion Whipper Billy Watson. By March of 1969, Eric had turned heel and his career began to blossom. He faced a host of notable competitors such as Edouard Carpentier, Paul Diamond, and Watson in towns like Burlington, Dundas, and Toronto.
In the fall of 1969, Eric crossed the border and made his debut for Vince McMahon, Sr. in the WWWF. Competing against Gene "The Canadian Wildman" Dubois, Tony Altimore and Jack Vansky, Eric never rose above prelims. "Eric The Red was a real character," recalled George "The Animal" Steele, a professional wrestler for thirty years. "If he got into NY at 2:00 am he would get a case of beer and ride the subway all night. He would check into the hotel as early as possible the next morning to start the new day. When we asked him why he didn't just get a room somewhere, he would say 'bulls***, I will not pay that much for five hours sleep.'"
In late 1970, Eric made his debut for Pedro Martinez in the National Wrestling Federation, otherwise known as the old Cleveland-Buffalo circuit. He formed a mid-level tag team with Kurt Von Hess that lasted a few months, and was a regular on many cards, wrestling Chief White Owl, Johnny Powers, and Dominic DeNucci. Eric was also a fixture on Pittsburgh-Erie area wrestling cards for many years, having memorable matches with Gorilla Monsoon, Frank Durso, and Victor Rivera. He made out-of-the-ring headlines during one trip to Pittsburgh, getting into a well-publicized altercation at a bar named "Frenchy's," which resulted in several minor injuries.
More...
If you'd like to discuss the Florida region with other fans, please visit the KM Message Board

KM DVD/VHS Store 4
Click here to purchase DVD or VHS products direct from the official distributors.
KM Replica Masks 4
Click here to purchase pro quality replica wrestling masks of all your favorite old school masked wrestlers.
KM Store 4
The KM Store now features products featuring the GCW logo as well as some other very cool images. To see what's new and to purchase T-Shirts, ball caps, mouse pads and more, click here.
KM Message Board 4
Want to chat with other fans of regional wrestling? This message board has forums for over two dozen promotions. Click here.
KM Belt Gallery 4
This section contains an extensive title belt gallery... images of heavyweight, tag, U.S. and various regional title belts. To view it, click here.
Old School Tape Review 4
Reviews of various PPV's, commercial tapes and regional wrestling TV shows are available in this section. To read more, click here.
Website designed & maintained by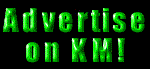 Thanks for visiting!