Regional Territories 4
This section contains monthly articles on over two dozen territories. To relive those wonderful days of old, click here.
Wrestlers 4
Enter this section for bios/profiles of various wrestlers from the regional days. To find more out about your favorite pro wrestler, click here.
Stories 4
This section contains stories from the pros themselves told exclusively to Kayfabe Memories. Want to know more as told from the wrestlers themselves? Click here.
Old School Book Reviews4
Click here to find various book reviews from old school wrestlers.
KM Links 4
For tons of links to old school related sites, click
here
.
KM Micro Wrestlers4
What are Micro Wrestlers? Click here
to find out.
KM Interviews... 4
Click here to read exclusive interviews with stars from the regional territories.
www.kayfabememories.com is © 2004 AtomDesigns. All promotional art, characters, logos and other depictions are © their respective owners. All Rights Reserved.
All contents save Wrestler Stories are © Kayfabe Memories.
Website designed and maintained by AtomDesigns © 2004 . If you experience any problems with this site or have any questions, please contact the Webmaster.
- Mitch Lucas

As some of you may know, I'm a sports reporter, so free time is somewhat of a premium for me but I've reconsidered what my role is here, where this column is concerned. Rather than spend so much time on a particular year we tend to divide things up by time around here, and maybe rightfully so.

I've decided instead to focus on individuals, and their contributions to the Continental Wrestling area. Over the course of 2004, this space will be devoted to the very best competitors in the Continental area. One thing, though: don't expect the columns to be a career retrospective of what each wrestler did in every area. This is focused on the period of Continental Championship Wrestling, or the Continental Wrestling Federation, only there wonąt be any analysis of what Brad Armstrong, for instance, did in the UWF, or what Robert Fuller & Jimmy Golden have done since Continental folded. I'll stick solely with the Continental area. From time to time, there will be mentions of what the particular wrestler(s) is doing now. To me, the people we'll feature all had prominent roles in the success, on TV and off, of Continental Wrestling. There are no big "I's" or little "you's," so to speak, and the columns aren't in any order of significance. Now that that's out of the way, on to our first subject... "Wildcat" Wendall Cooley.

Cooley, a mid-sized wrestler with tons of charisma, went from being glorified enhancement talent under the Southeastern Championship Wrestling banner to arguably the flagship wrestler during the Continental years. In my own opinion, I'd say Cooley shared the flagship wrestler title, the "franchise," if you will, with Tom Prichard and, early in the Continental years, The Bullet. If you're not familiar with Cooley, imagine a slightly smaller version of "Nature Boy" Ric Flair, with black hair, a mustache and beard. Cooley's build was very similar, only somewhat smaller; he weighed about 235. Cooley wrestled in SECW on and off before traveling to other areas in the south and southwest, namely Texas and the Memphis promotion. He also wrestled under the name "Rick Casey." He returned to Continental as part of a strong younger talent roster: the Armstrong boys (Brad, Scott and Steve), Johnny Rich, Tim Horner, and Tom Prichard. All were then fixtures of the promotion. Throw in such already-established wrestlers like Robert & Ron

Fuller, Jimmy Golden, Roy Lee Welch, the incomparable Jerry Stubbs, Adrian Street, Bob Armstrong, Jody Hamilton and Tommy "Wildfire" Rich, and there was a lot, and I mean a LOT, of factors that made Continental a fantastic promotion in late 1985, early 1986. Cooley was put in a good situation to succeed very early upon returning to Continental.

The young potential-filled Florida wrestler was pitted in a feud against Southeastern champion "Exotic" Adrian Street, a negative heat-drawing machine like few wrestlers I've ever seen. Street, whose effeminate mannerisms, makeup, British discontent with the United States and microphone talents made him a target of Continental fans, had just finished a lengthy feud with Norvell Austin. Honestly, I've seen few wrestlers draw heat the way Street could, even to this day in 2004.

Street's valet (his real-life significant other), Miss Linda, helped him draw the heat by her constant interference in his matches (fans hated Linda literally as much as they did Street). The cowboy-look Cooley, who often wore chaps and vests early in his Continental days, was the complete opposite of Street. Cooley's entrance music was Hank Williams, Jr.'s "If Heaven Ain't A Lot Like Dixie," and even sometimes the gritty tunes of Ted Nugent's "Cat Scratch Fever." His move: a bulldog, which he would signal to the fans he was about to perform with a slight twist of his hand as he held up his index finger. Cooley called the move the "Oklahoma Stampede." "Dr. Death" Steve Williams also sometimes referred to his running powerslam as the "Oklahoma Stampede" but it was a different move entirely. Anyway, I've gotta be honest, being a new wrestling fan in early 1986 (I started watching Continental in August, 1985), I really didn't care for either Cooley or Street at first. Street for obvious reasons, and Cooley, well just because my initial impression of him was that he was a redneck. Nothing could have been farther from the truth. Cooley's feud with Street turned into a showcase for him with much of the credit for that going to Street, a phenomenal talent for decades in this business. But Cooley had a big role in his own rise, as well. The feud featured all sorts of gimmick matches, loser wears a dress, loser wears a saddle, Texas death, Texas bullrope. If the match could humiliate the loser, Cooley and Street fought it, for the better part of six months. Cooley traded the Southeastern title, the area's secondary title following the name change from SECW to "Continental Championship Wrestling," on several occasions, and finally lost his opportunity to keep the title from Street when Street shocked everyone by turning fan favorite. More...

If you'd like to discuss the CCW-CWF region with other fans, please visit the KM Message Board

KM DVD/VHS Store 4
Click here to purchase DVD or VHS products direct from the official distributors.
KM Replica Masks 4
Click here to purchase pro quality replica wrestling masks of all your favorite old school masked wrestlers.
KM Store 4
The KM Store now features products featuring the GCW logo as well as some other very cool images. To see what's new and to purchase T-Shirts, ball caps, mouse pads and more, click here.
KM Message Board 4
Want to chat with other fans of regional wrestling? This message board has forums for over two dozen promotions. Click here.
KM Belt Gallery 4
This section contains an extensive title belt gallery... images of heavyweight, tag, U.S. and various regional title belts. To view it, click here.
Old School Tape Review 4
Reviews of various PPV's, commercial tapes and regional wrestling TV shows are available in this section. To read more, click here.
Website designed & maintained by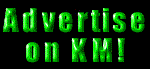 Thanks for visiting!