Regional Territories 4
This section contains monthly articles on over two dozen territories. To relive those wonderful days of old, click here.
Wrestlers 4
Enter this section for bios/profiles of various wrestlers from the regional days. To find more out about your favorite pro wrestler, click here.
Stories 4
This section contains stories from the pros themselves told exclusively to Kayfabe Memories. Want to know more as told from the wrestlers themselves? Click here.
Old School Book Reviews4
Click here to find various book reviews from old school wrestlers.
KM Links 4
For tons of links to old school related sites, click
here
.
KM Micro Wrestlers4
What are Micro Wrestlers? Click here
to find out.
KM Interviews... 4
Click here to read exclusive interviews with stars from the regional territories.
www.kayfabememories.com is © 2004 AtomDesigns. All promotional art, characters, logos and other depictions are © their respective owners. All Rights Reserved.
All contents save Wrestler Stories are © Kayfabe Memories.
Website designed and maintained by AtomDesigns © 2004 . If you experience any problems with this site or have any questions, please contact the Webmaster.
- Mitch Lucas
"I might have to go looking for it again. If I have to go looking for it again, I'm not going by myself. I might get me a big old stick, kind of like -- what was his name -- Buford Pusser. Yeah. I might just knock your lights out, jack."
U.S. Junior Heavyweight Champion Tim Horner, speaking to challenger Roy Lee Welch, who had apparently disappeared with the U.S. Jr. title belt.
In 1986, "Top Gun" was soaring onto movie screens across the country, Tears for Fears and Huey Lewis and the News were making hits in music, and on the national wrestling scene, there was no change: Hulk Hogan, Ric Flair and Nick Bockwinkel ruled the world.
In Continental Championship Wrestling, though, there was about to be change, and plenty of it. The summer of 1986 was so integral to the future of Continental Wrestling that I've decided to break it down into feuds, and in this column, we'll focus squarely on the feud for the U.S. Junior Heavyweight Championship between "White Lightnin'" Tim Horner and Roy Lee Welch.
Horner, who had just came off a long feud with newcomer Tom Prichard, had few challenges to the belt since winning it back. Prichard had abandoned his pursuit of the title for the time being to serve as a manager to Robert Fuller and Jimmy Golden, the Southeastern Tag Team champions.
One challenge Horner didn't expect was from Roy Lee Welch, traditionally an easy-going man but good competitor who had helped with announcing during the promotion's Southeastern Championship Wrestling days. Welch's attitude, though, suddenly changed, and he feigned a knee injury and pinned Horner in a non-title match.
Welch ran from the ring area, and took the U.S. Jr. title belt with him. Later, when Horner sought the return of the belt, Welch claimed he was out in the arena, looking for Horner so he could apologize, and someone must have taken the belt out of his bag in the dressing room.
Horner threatened to go in pursuit of the belt. "If I have to go to your house and get it," Horner warned, "you ain't gonna like it a little bit, jack."
Finally, after three weeks of searching but no results, Horner lumbered into the rulebreakers' locker room, looking for the belt. Dutch Mantell, Fuller, Golden, Adrian Street, Prichard and Continental champion Jerry Stubbs were sitting there talking when Horner, followed by a cameraman, burst in.
"Where's Welch's bag?," he shouted. No one answered. He threw some travel bags aside, found Welch's, and unzipped it. He pulled out the U.S. Jr. title belt!
"I knew it! I knew it was in here!," Horner said, as he held the belt up for the camera to capture. Suddenly, Welch came around the corner from the showers.
"What the...GET HIM!! GET HIM!!," the Oklahoma native shouted, and all the rulebreakers began attacking Horner. He fell to the ground, and they were all kicking him. The belt wound up in the hands of Mantell. Welch picked Horner up off of the floor, grabbed him by the tights and the hair, and threw him out of the dressing room, as Robert Fuller shouted, "You're in the wrong dressing room, boy!"
The show cut back to Horner, who was standing at the CCW podium, with Gordon Solie. Horner angrily ripped off his sunglasses, revealing a nasty-looking black right eye. "I'll be the first one to admit that wasn't one of the smartest things I've ever done," Horner said, "but I think I showed some results."
Welch said later in the show, that Mantell, who had lost a dramatic loser-leaves-town to the Bullet that very week, must have taken the belt with him when he left. "I'll tell you this, Mr. Welch," Solie warned, "that belt better be returned within the next 30 days, or you're facing some serious, serious charges."
More...
If you'd like to discuss the CCW-CWF region with other fans, please visit the KM Message Board

KM DVD/VHS Store 4
Click here to purchase DVD or VHS products direct from the official distributors.
KM Replica Masks 4
Click here to purchase pro quality replica wrestling masks of all your favorite old school masked wrestlers.
KM Store 4
The KM Store now features products featuring the GCW logo as well as some other very cool images. To see what's new and to purchase T-Shirts, ball caps, mouse pads and more, click here.
KM Message Board 4
Want to chat with other fans of regional wrestling? This message board has forums for over two dozen promotions. Click here.
KM Belt Gallery 4
This section contains an extensive title belt gallery... images of heavyweight, tag, U.S. and various regional title belts. To view it, click here.
Old School Tape Review 4
Reviews of various PPV's, commercial tapes and regional wrestling TV shows are available in this section. To read more, click here.
Website designed & maintained by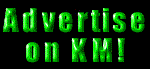 Thanks for visiting!