Regional Territories 4
This section contains monthly articles on over two dozen territories. To relive those wonderful days of old, click here.
Wrestlers 4
Enter this section for bios/profiles of various wrestlers from the regional days. To find more out about your favorite pro wrestler, click here.
Stories 4
This section contains stories from the pros themselves told exclusively to Kayfabe Memories. Want to know more as told from the wrestlers themselves? Click here.
Old School Book Reviews4
Click here to find various book reviews from old school wrestlers.
KM Links 4
For tons of links to old school related sites, click
here
.
KM Micro Wrestlers4
What are Micro Wrestlers? Click here
to find out.
KM Interviews... 4
Click here to read exclusive interviews with stars from the regional territories.
www.kayfabememories.com is © 2004 AtomDesigns. All promotional art, characters, logos and other depictions are © their respective owners. All Rights Reserved.
All contents save Wrestler Stories are © Kayfabe Memories.
Website designed and maintained by AtomDesigns © 2004 . If you experience any problems with this site or have any questions, please contact the Webmaster.
- Mitch Lucas
"The errand boys are gone. The errand boys aren't coming anymore. You see, I'm coming now. And the difference between an errand boy and an assassin is one thing: termination."
Kevin Sullivan, alone, speaking directly to the Bullet on Continental Championship Wrestling¹s TV show, July 26, 1986.
Well, "next month" turned out to be a while, didn't it? We all go through changes in our lives - sorry I've been out so long, boys. Let's continue our look at 1986.
With the chilling words you read in the opener, Kevin Sullivan, in his trademark Boston accent, announced his entry into Continental Championship Wrestling, and made his intentions very clear: the end of the Bullet, as soon as possible.
Remember, now, that I have been a wrestling fan, at this point in 1986, for less than a year. I didn't even know who Kevin Sullivan was at the time. It wasn't until after his arrival in Continental - and I talked with other fans - that I found out about Sullivan's demonic history, that he was one of the most notorious rulebreakers in the industry, and how he terrorized Dusty Rhodes and other fan favorites in Florida for years.
In this report, we're going to slow things down, focusing more on Sullivan, his arrival and how it impacted the booking of the promotion for the remainder of the year. First, though, a quick rundown of the champions in the area at the time, and a brief roundup of the other feuds going on in June, 1986:
* Continental Heavyweight Champion: Jerry Stubbs (although he and Brad Armstrong traded off the title in a series of hotly contested matches).
* Southeastern Tag Team Champions: "Luscious" Robert Fuller & "Gorgeous" Jimmy Golden. Fuller & Golden were managed by Tom Prichard, who was called "Doctor" Tom allegedly because he had, at one point, gone to medical school and dropped out.
* Southeastern Heavyweight Champion: "The Exotic" Adrian Street.
* U.S. Junior Heavyweight Champion: "White Lightnin'" Tim Horner.
Armstrongs vs. the Stud's Stable
Things were basically still normal at the time. By "normal," I mean that Fuller & Golden were the lead rulebreakers, with Stubbs, as well, and most of the rulebreakers, in some way, shape or form, had it in for the Armstrong family.
Ron Fuller, "The Tennessee Stud," was supposedly traveling the globe. His latest attempt to get the Bullet's mask - bringing in El Fuego and "Dirty" Dutch Mantell - fell miserably short, with the Bullet defeating both men in loser-leave-town matches. The most dramatic was the Bullet's victory over Mantell, who had Jerry Stubbs distract the referee while he tossed powder into the Bullet's eyes. Just as the Bullet's shoulders looked to be down for the three-count, he reversed Mantell's pin attempt and sent the "Dirty Dutchman" packing.
Just as a reminder: the Bullet was believed by many to actually be Bob Armstrong, who was banned from wrestling in the Continental area. Ron Fuller and the rest of his Stud's Stable were obsessed with getting the Bullet out of there, and this central idea was the focal point of much of the booking of the first half of 1986. The Bullet didn¹t realize it, but the most serious challenge to his mask wasn't Mantell; it would be Kevin Sullivan.
Continental Heavyweight Championship
Throughout June, Continental continued at its standard pace: the Bullet was the promotion's most popular fan favorite, fending off Mantell. Stubbs continued his title defenses against Brad Armstrong - the pair fought to bloody conclusions just about every time. Because of an injury to Brad, though, this feud became tied closely to the Armstrongs' feud with the Fullers and Golden, who had hired Mantell to rid the area of the Bullet. More...
If you'd like to discuss the CCW-CWF region with other fans, please visit the KM Message Board

KM DVD/VHS Store 4
Click here to purchase DVD or VHS products direct from the official distributors.
KM Replica Masks 4
Click here to purchase pro quality replica wrestling masks of all your favorite old school masked wrestlers.
KM Store 4
The KM Store now features products featuring the GCW logo as well as some other very cool images. To see what's new and to purchase T-Shirts, ball caps, mouse pads and more, click here.
KM Message Board 4
Want to chat with other fans of regional wrestling? This message board has forums for over two dozen promotions. Click here.
KM Belt Gallery 4
This section contains an extensive title belt gallery... images of heavyweight, tag, U.S. and various regional title belts. To view it, click here.
Old School Tape Review 4
Reviews of various PPV's, commercial tapes and regional wrestling TV shows are available in this section. To read more, click here.
Website designed & maintained by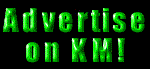 Thanks for visiting!