Regional Territories 4
This section contains monthly articles on over two dozen territories. To relive those wonderful days of old, click here.
Wrestlers 4
Enter this section for bios/profiles of various wrestlers from the regional days. To find more out about your favorite pro wrestler, click here.
Stories 4
This section contains stories from the pros themselves told exclusively to Kayfabe Memories. Want to know more as told from the wrestlers themselves? Click here.
Old School Book Reviews4
Click here to find various book reviews from old school wrestlers.
KM Links 4
For tons of links to old school related sites, click
here
.
KM Micro Wrestlers4
What are Micro Wrestlers? Click here
to find out.
KM Interviews... 4
Click here to read exclusive interviews with stars from the regional territories.
www.kayfabememories.com is © 2004 AtomDesigns. All promotional art, characters, logos and other depictions are © their respective owners. All Rights Reserved.
All contents save Wrestler Stories are © Kayfabe Memories.
Website designed and maintained by AtomDesigns © 2004 . If you experience any problems with this site or have any questions, please contact the Webmaster.
- Mitch Lucas
Summer, 1986 was when Continental Championship Wrestling really began to pop. Back in the 1980s -- and real, long-time wrestling fans know this -- summer was a special time. Most promotions saved their best feuds for the summer -- children and teens were out of school and families could get to the matches more.
Continental was no exception. Some of the hottest feuds ever in the Continental era of Southeastern wrestling were during the summer months. In fact, before the summer was out, I went to my first wrestling card, a double main event card in Columbus, MS, on June 29, 1986. I can even remember the matches -- more on that in a moment.
The promotion had something really special planned for 1986, if it panned out. Boy, did it ever: Kevin Sullivan was on his way to the area, and it would forever change Continental Wrestling. First, though, there were some details to be sewn up, and to overlook June on the way to July would be an outrage. Sullivan might not have arrived yet, but some great matches happened in June that sometimes get overlooked because people remember Sullivan's wild games during that summer.
A quick overview of feuds in the promotion going into June:
- Continental title: "Mr. Perfect" Jerry Stubbs vs. Brad Armstrong

- Southeastern Tag: "Luscious" Robert Fuller & "Gorgeous" Jimmy Golden (with "Dr." Tom Prichard) vs. Tommy "Wildfire" Rich & Steve Armstrong (with The Intern)
- Southeastern title: "Exotic" Adrian Street (with Miss Linda) vs. "Wildcat" Wendall Cooley (these guys feuded for what seemed like FOREVER)
- U.S. Jr. Heavyweight title: "White Lightnin'" Tim Horner vs. Roy Lee Welch

- The Bullet vs. El Fuego (gimmick here was that the guy dressed just like The Flame, aka Jody Hamilton).
The feud over the U.S. Jr. title probably should have been an afterthought, given the fantastic, bloody, scientific matches between Stubbs and Brad Armstrong, the outrageous gimmick matches of Cooley-Street or the bloodbaths for the tag straps between Fuller & Golden and Rich and Steve Armstrong. But the wrestling -- and the storyline -- surrounding the U.S. Jr. title were second to none. In a nutshell, here goes. Welch, a longtime commentator and respected fan favorite, came back from a knee injury and asked for a shot at Horner's U.S. Jr. strap, a belt Welch never lost but had to forfeit because of the injury. Horner agreed to a match, but asked that Welch pin him in a non-title match first. Welch reluctantly agreed.
During the match, Welch feigned a knee injury, and went for the pin. Horner and the crowd -- and Gordon Solie, who called the match -- were all stunned. There was a no-decision in that match, and Horner eventually agreed to a rematch, again with no title on the line. This time, Welch didn't feign any injury. He didn't need to. He defeated Horner straight up, although he hooked the tights. The crowd went nuts as Roy Lee ran from ringside. During a subsequent interview between the two in front of the crowd in Birmingham's Boutwell Auditorium (where most TV events for CCW were taped), Welch ranted and raved about being the king of wrestling.
"You're not man enough to put the belt up against me! You know I'm the champion! I'm the undefeated champion! Why didn't you put it up?! Why didn't you put it up?!"
A calm but pacing Horner stood aside Mr. Solie. "I'll call you anything I want to, but one thing I'll definitely not call you is the United States Junior Heavyweight Champion. You're not the United States Junior Heavyweight Champion -- I am... There's a few sayings I want you to remember. If you mess with the bull, you'll get the horns. If you wanna dance, you've gotta play the fiddle. And if you mess with lightning, you'll definitely get struck, jack." More...
If you'd like to discuss the CCW-CWF region with other fans, please visit the KM Message Board

KM DVD/VHS Store 4
Click here to purchase DVD or VHS products direct from the official distributors.
KM Replica Masks 4
Click here to purchase pro quality replica wrestling masks of all your favorite old school masked wrestlers.
KM Store 4
The KM Store now features products featuring the GCW logo as well as some other very cool images. To see what's new and to purchase T-Shirts, ball caps, mouse pads and more, click here.
KM Message Board 4
Want to chat with other fans of regional wrestling? This message board has forums for over two dozen promotions. Click here.
KM Belt Gallery 4
This section contains an extensive title belt gallery... images of heavyweight, tag, U.S. and various regional title belts. To view it, click here.
Old School Tape Review 4
Reviews of various PPV's, commercial tapes and regional wrestling TV shows are available in this section. To read more, click here.
Website designed & maintained by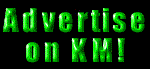 Thanks for visiting!