Regional Territories 4
This section contains monthly articles on over two dozen territories. To relive those wonderful days of old, click here.
Wrestlers 4
Enter this section for bios/profiles of various wrestlers from the regional days. To find more out about your favorite pro wrestler, click here.
Stories 4
This section contains stories from the pros themselves told exclusively to Kayfabe Memories. Want to know more as told from the wrestlers themselves? Click here.
Old School Book Reviews4
Click here to find various book reviews from old school wrestlers.
KM Links 4
For tons of links to old school related sites, click
here
.
KM Micro Wrestlers4
What are Micro Wrestlers? Click here
to find out.
KM Interviews... 4
Click here to read exclusive interviews with stars from the regional territories.
www.kayfabememories.com is © 2004 AtomDesigns. All promotional art, characters, logos and other depictions are © their respective owners. All Rights Reserved.
All contents save Wrestler Stories are © Kayfabe Memories.
Website designed and maintained by AtomDesigns © 2004 . If you experience any problems with this site or have any questions, please contact the Webmaster.
- Mitch Lucas
"You said you and Shoobaby been together for about 10 years? Well, me and Shoobaby gonna be together a loooonnng time."

- "Wildcat" Wendall Cooley to "Dirty" Dutch Mantell

As the summer of 1987 came closer, and here's quite an editorial statement on my part, Wendall Cooley was the perfect man to carry the mantle of Continental Heavyweight Champion.

The month of April ended with Cooley capturing the belt from "Nature Boy Buddy Landell, a man who was very over as a heel with the fans, but who was departing. The promotion needed to put the belt on a fan favorite that could help them bring crowds back (the crowds had waned since February), and stir the creative juices of the bookers. At the same time, Dutch Mantell, an icon of southern wrestling, was on his rise to the promotion's top heel spot. Mantell was booked to win the Southeastern title, now the promotion's secondary championship (much like the U.S. title in Jim Crockett Promotions) over "Exotic" Adrian Street, who put over Mantell on his way out.

Mantell got over as a heel by his continuous anti-southeast banter, doing skits called "On The Road With Dutch Mantell," where he would appear, sometimes literally, on the road at a spot somewhere in the southeast (in Birmingham at first, then along the interstate in Tennessee, and also in Kentucky) and insult the typical Continental viewer by just berating the South. Mantell was supposedly immune to such southern ignorance because he was from Texas (in Mantell's view, "the real south."

These segments were absolutely hilarious, and served two purposes: they got Mantell over as both a heel and the Southeastern champion, and set up very nicely his feud with the extremely-proud-to-be-southern Cooley, who, like his patriotism, seemed to wear his southern heritage on his sleeve.

The feud between Cooley and Mantell was just big-time. For me, it would have been like Dusty Rhodes vs. Ric Flair in JCP, or Hulk Hogan vs. Roddy Piper in the WWF.

Cooley and Mantell was just a natural fit. After weeks of "On the Road With Dutch Mantell," the promoters finally put the pair together when Cooley stopped a Mantell attack on Scott Casey, taking the butt of Mantell's whip, Shoobaby, in the back.

The next week, Mantell bragged about "taking out" Casey and hurting Cooley. "You¹ve heard of two-on-one?," he laughed to Gordon Solie. "Well, that's one-on-two."

Mantell went to the ring to face enhancement talent, and beat the young man quickly. He then tangled the kid in the ropes, and pulled out Shoobaby to demonstrate how to properly blister your opponent with a bullwhip when Cooley arrived on the scene, a 2X4 in hand. Mantell swung at Cooley with the whip, missed, then swung again. The whip got tangled in Cooley's legs, and a tug-of-war ensued over the whip. Cooley, naturally, wrangled the whip away from Mantell, who was just distraught.

Mr. Solie," Mantell pleaded, after a commercial break, "I want you to be a good little boy and go retrieve Shoobaby..."

"No, sir," Solie said, diplomatically. "That's between you and Mr. Cooley."

Cooley, smiling like the Cheshire cat, stood in the ring with ring announcer Cat Collins, fiddling with the tip of the whip. "You said you and Shoobaby been together for about 10 years?" Cooley said.
"Well, me and Shoobaby gonna be together a loooonnng time." Cooley reminded Mantell that he was the top title-holder, and challenged Mantell to a series of title unification matches between the two.

The angle happened on June 8, 1987, as part of a TV taping in Boutwell Auditorium in Birmingham. That show wound up being arguably the most important show that year for the promotion. On that same show, Bob Armstrong returned to the Bullet gimmick, and Robert Fuller & Jimmy Golden became monster heels (again), starting a feud with The Nightmares.
More...

KM DVD/VHS Store 4
Click here to purchase DVD or VHS products direct from the official distributors.
KM Replica Masks 4
Click here to purchase pro quality replica wrestling masks of all your favorite old school masked wrestlers.
KM Store 4
The KM Store now features products featuring the GCW logo as well as some other very cool images. To see what's new and to purchase T-Shirts, ball caps, mouse pads and more, click here.
KM Message Board 4
Want to chat with other fans of regional wrestling? This message board has forums for over two dozen promotions. Click here.
KM Belt Gallery 4
This section contains an extensive title belt gallery... images of heavyweight, tag, U.S. and various regional title belts. To view it, click here.
Old School Tape Review 4
Reviews of various PPV's, commercial tapes and regional wrestling TV shows are available in this section. To read more, click here.
Website designed & maintained by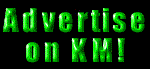 Thanks for visiting!