Regional Territories 4
This section contains monthly articles on over two dozen territories. To relive those wonderful days of old, click here.
Wrestlers 4
Enter this section for bios/profiles of various wrestlers from the regional days. To find more out about your favorite pro wrestler, click here.
Stories 4
This section contains stories from the pros themselves told exclusively to Kayfabe Memories. Want to know more as told from the wrestlers themselves? Click here.
Old School Book Reviews4
Click here to find various book reviews from old school wrestlers.
KM Links 4
For tons of links to old school related sites, click
here
.
KM Micro Wrestlers4
What are Micro Wrestlers? Click here
to find out.
KM Interviews... 4
Click here to read exclusive interviews with stars from the regional territories.
www.kayfabememories.com is © 2004 AtomDesigns. All promotional art, characters, logos and other depictions are © their respective owners. All Rights Reserved.
All contents save Wrestler Stories are © Kayfabe Memories.
Website designed and maintained by AtomDesigns © 2004 . If you experience any problems with this site or have any questions, please contact the Webmaster.
- Jim Zordani
The next three or four installments of this column will cover Rick Martel's tenure in the AWA. Martel was a wrestler I did not like at the time he was AWA champion. I was a heel fan and detested pretty boy wrestlers. Rick definitely was a pretty boy so I never gave him the time of day even though I knew he was talented. I chose to root against him. As the years have gone by, I've come to appreciate what a truly fine performer Rick Martel was. It is the goal of this particular column to touch on Martel's wrestling career prior to joining the AWA and to detail Rick's start in the AWA.
Richard Vigneault, the wrestler later to be known as Rick Martel, was born on March 18th, 1956. His older brother Michel "Mad Dog" Martel was a professional wrestler widely known all over Canada. Michel wanted Rick to become a professional wrestler and occasionally would bring Rick on tours with him. As the story goes, Michel was wrestling in the Canadian Maritimes during 1972. One of the wrestlers was injured so the promoter needed a replacement. Michel told the promoter his kid brother Rick could fill the spot of the injured wrestler. Michel called Rick in Quebec and told him of the opportunity to wrestle in the Maritimes. Rick had never wrestled a professional match but was well versed in amateur wrestling particularly the Greco-Roman style. Rick jumped at the chance and hopped on an airplane to Nova Scotia. According to Rick himself in an interview with Slam Wrestling conducted by Greg Oliver, Rick's first match happened in North Sydney, Nova Scotia, Canada. Canadian wrestling historian Vance Nevada lists one of Rick's earliest matches as a victory over Serge Bone on June 7th, 1972 in New Glascow, Nova Scotia.
During the first few years of his career, Rick found it difficult to get booked regularly in his native home, the province of Quebec. A local promoter took Rick aside telling Martel he was too similar to another young French Canadian wrestler Raymond Rougeau to get bookings on a regular basis. Rick heeded the promoter's advice and began traveling the globe to perfect his craft. Martel toured Australia, Calgary, New Zealand, Japan, Hawaii, Texas, Florida, Puerto Rico and Georgia during the first several years of his career. He was exposed to a wide variety of wrestling styles which would benefit him later in his career. Among the championships Rick held during the 1970s were the Stampede International tag team titles with partner Lenny Hurst, the New Zealand Commonwealth title on three different occasions, the Georgia tag team titles with partner Tommy Rich, the WWC North American tag team titles with partner Pierre Martel (Frenchy Martin) in Puerto Rico and the North American heavyweight title in Hawaii. It was in Honolulu, Hawaii that Rick received his first few AWA heavyweight title shots against Nick Bockwinkel.
In November of 1979, Rick Martel ventured to the Pacific Northwest territory run by Don Owen. Martel received a huge push upon his arrival getting a couple NWA title matches against Harley Race in January of 1980. Rick also formed a very successful tag team with Roddy Piper. Martel and Piper engaged in an extremely violent feud with the Kiwi Sheepherders over the Pacific Northwest tag team titles. Rick and Roddy won the tag straps from the Sheepherders on March 29th, 1980 in Portland, Oregon but lost the belts back to the Sheepherders in Portland on May 12th, 1980. At the same time Rick and Roddy were feuding with the Sheepherders, Martel was also warring with Playboy Buddy Rose over the Pacific Northwest Heavyweight Championship. Rick Martel beat Buddy Rose for the singles strap on March 22nd, 1980 in Portland, Oregon. When the Sheepherders abruptly left the PNW territory, the Pacific Northwest tag team titles were vacated. Rick Martel and Roddy Piper defeated Buddy Ros e and Ed Wiskowski on August 5th, 1980 in Portland Oregon to capture the vacated tag team titles. After Martel successfully defended the Pacific Northwest heavyweight title by beating Rose on the August 9th Portland card, the Playboy demanded a rematch with Loser Leaves Town stipulations. On the very next Portland card held on August 16th, 1980, Playboy Buddy Rose defeated Rick Martel in a loser leaves town match to re-capture the Pacific Northwest heavyweight title. Martel adhered to the stipulation of the match and left the territory. More...

KM DVD/VHS Store 4
Click here to purchase DVD or VHS products direct from the official distributors.
KM Replica Masks 4
Click here to purchase pro quality replica wrestling masks of all your favorite old school masked wrestlers.
KM Store 4
The KM Store now features products featuring the GCW logo as well as some other very cool images. To see what's new and to purchase T-Shirts, ball caps, mouse pads and more, click here.
KM Message Board 4
Want to chat with other fans of regional wrestling? This message board has forums for over two dozen promotions. Click here.
KM Belt Gallery 4
This section contains an extensive title belt gallery... images of heavyweight, tag, U.S. and various regional title belts. To view it, click here.
Old School Tape Review 4
Reviews of various PPV's, commercial tapes and regional wrestling TV shows are available in this section. To read more, click here.
Website designed & maintained by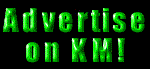 Thanks for visiting!