Regional Territories 4
This section contains monthly articles on over two dozen territories. To relive those wonderful days of old, click here.
Wrestlers 4
Enter this section for bios/profiles of various wrestlers from the regional days. To find more out about your favorite pro wrestler, click here.
Stories 4
This section contains stories from the pros themselves told exclusively to Kayfabe Memories. Want to know more as told from the wrestlers themselves? Click here.
Old School Book Reviews4
Click here to find various book reviews from old school wrestlers.
KM Links 4
For tons of links to old school related sites, click
here
.
KM Micro Wrestlers4
What are Micro Wrestlers? Click here
to find out.
KM Interviews... 4
Click here to read exclusive interviews with stars from the regional territories.
www.kayfabememories.com is © 2004 AtomDesigns. All promotional art, characters, logos and other depictions are © their respective owners. All Rights Reserved.
All contents save Wrestler Stories are © Kayfabe Memories.
Website designed and maintained by AtomDesigns © 2004 . If you experience any problems with this site or have any questions, please contact the Webmaster.
- Jim Zordani
Nick Bockwinkel, fresh off the feud with Larry Zbyszko which turned Nick babyface, established himself as the number one contender to AWA champion Stan Hansen by April of 1986. Hansen had beaten Rick Martel for the AWA heavyweight title on December 29th, 1985 at the Meadowlands Arena in East Rutherford, New Jersey. Bockwinkel was awarded a title shot against Hansen at a supercard called WrestleRock on April 20th, 1986 in Minneapolis, Minnesota at the Hubert H Humphrey Metrodome. Even though Stan won that bout by disqualification, Nick served notice he was once again a legitimate title contender. Bockwinkel and Hansen continued to feud over the next few months with big Stan always managing to hold onto the AWA title.
Stan Hansen regarded himself as an employee of All Japan Pro Wrestling. Stan had been the top American star appearing in All Japan rings since his debut for the promotion in December of 1981. All Japan owner Shohei Baba brokered a deal with Verne Gagne for Hansen to become AWA champion just as Baba had done for Jumbo Tsuruta in the past. Everything between all parties was working fine until late June of 1986. Verne Gagne wanted Hansen to drop the AWA title to Nick Bockwinkel on June 29th, 1986 at McNichols Arena in Denver, Colorado. Baba had already booked Hansen to appear on the next All Japan tour as AWA champion. Days prior to the match in Denver at a TV taping, Gagne taped interviews with Bockwinkel as AWA champion for the AWA's weekly television program All Star Wrestling and had sent those interviews out to all the televisions stations that aired All Star Wrestling on a weekly basis. When Verne told Hansen to lose the belt to Bockwinkel in Denver, Stan refused citing his commitments to defend the AWA title in Japan for Baba. Hansen said he'd be glad to drop the AWA title to anyone once he returned from his All Japan tour and left McNichol's Arena with the AWA belt in hand. It was announced to the crowd in Denver that Stan Hansen had not shown up at the Arena and as a result Nick Bockwinkel was declared AWA champion because Hansen failed to appear for the match.
The first challenger to AWA champion Nick Bockwinkel was John Nord aka Nord The Barbarian. Nord was first seen in the AWA during late 1984 and after a few months was sent to Mid South Wrestling run by Bill Watts for some seasoning. John was given The Barbarian gimmick by Watts and was used as a monster heel. Upon his return to the AWA as The Barbarian in the latter portion of 1985, John became a member of Sheik Adnan El Kaissey's army teaming frequently with the Mongolian Stomper and Boris Zhukov. In order to get Nord over as a credible challenger to Bockwinkel, the AWA had The Barbarian beat Nick in a series of non title matches.The theory being if Nord could beat Bockwinkel in non title bouts, he stood a very good chance of beating Nick when the title was on the line. However Nord was unsuccessful in unseating Nick Bockwinkel as AWA champion.
Ed Wiskowski made his pro wrestling debut in 1970 and did very well in such territories as San Francisco, The Pacific Northwest and The Central States region. Wiskowski used a variety of gimmicks over the years and was equally adebt in singles and tag team competition. When Wiskowski came to the AWA in early 1986, he was given the identity Colonel DeBeers, a South African mercenary. Colonel DeBeers made waves throughout the wrestling world by refusing to wrestle a black man. This gimmick was a heat seeker. Fans easily hated DeBeers. The Colonel worked his way up the AWA ladder evenually finding himself in position to challenge AWA champion Nick Bockwinkel. While DeBeers came close to beating Bockwinkel for the title on several occasions, he always fell short of achieving that honor.
Jim Nelson started wrestling professionally in May of 1978 but didn't receive his first big break until early 1982 when he became a Private in Sgt. Slaughter's Cobra Corps. Nelson along with Private Don Kernodle enjoyed one reign as Mid Atlantic tag team champions. After leaving the Mid Atlantic territory in early 1983, Nelson adopted the Boris Zhukov persona. As Zhukov, Nelson travelled to several territories before settling upon the AWA in July of 1985. Boris immediately started a feud with former Olympian Brad Rheingans and soon moved on to America's hero and one time friend Sgt. Slaughter. By this time Zhukov was under the management of Sheik Adnan El Kaissey. Boris continued to wrestle in the AWA for several months and was deemed worthy of a title shot against AWA champion Nick Bockwinkel in late 1986. Zhukov became one of Nick's most persistent challengers but like DeBeers and Nord before him could not defeat Bockwinkel for the coveted strap. More...
If you'd like to discuss the AWA region with other fans, please visit the KM Message Board

KM DVD/VHS Store 4
Click here to purchase DVD or VHS products direct from the official distributors.
KM Replica Masks 4
Click here to purchase pro quality replica wrestling masks of all your favorite old school masked wrestlers.
KM Store 4
The KM Store now features products featuring the GCW logo as well as some other very cool images. To see what's new and to purchase T-Shirts, ball caps, mouse pads and more, click here.
KM Message Board 4
Want to chat with other fans of regional wrestling? This message board has forums for over two dozen promotions. Click here.
KM Belt Gallery 4
This section contains an extensive title belt gallery... images of heavyweight, tag, U.S. and various regional title belts. To view it, click here.
Old School Tape Review 4
Reviews of various PPV's, commercial tapes and regional wrestling TV shows are available in this section. To read more, click here.
Website designed & maintained by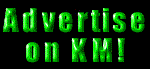 Thanks for visiting!