Regional Territories 4
This section contains monthly articles on over two dozen territories. To relive those wonderful days of old, click here.
Wrestlers 4
Enter this section for bios/profiles of various wrestlers from the regional days. To find more out about your favorite pro wrestler, click here.
Stories 4
This section contains stories from the pros themselves told exclusively to Kayfabe Memories. Want to know more as told from the wrestlers themselves? Click here.
Old School Book Reviews4
Click here to find various book reviews from old school wrestlers.
KM Links 4
For tons of links to old school related sites, click
here
.
KM Micro Wrestlers4
What are Micro Wrestlers? Click here
to find out.
KM Interviews... 4
Click here to read exclusive interviews with stars from the regional territories.
www.kayfabememories.com is © 2004 AtomDesigns. All promotional art, characters, logos and other depictions are © their respective owners. All Rights Reserved.
All contents save Wrestler Stories are © Kayfabe Memories.
Website designed and maintained by AtomDesigns © 2004 . If you experience any problems with this site or have any questions, please contact the Webmaster.
- Jim Zordani
As 1984 rolled around, Nick Bockwinkel still held the AWA heavyweight championship. A successor to Bockwinkel had not been chosen. All-Japan Pro Wrestling owner, Shohei "Giant" Baba approached Verne Gagne with a monetary offer to have Jumbo Tsuruta beat Bockwinkel for the AWA title. Gagne saw this offer as another money-making opportunity and agreed to make Tsuruta the AWA titleholder. On February 22nd, 1984, in Tokyo, Japan, Jumbo Tsuruta defeated Nick Bockwinkel to become the AWA's new kingpin. Jumbo assumed all of Nick's AWA title commitments and toured the AWA circuit defending the AWA belt against Blackjack Lanza, Greg Gagne, Jim Brunzell and, of course, former champ Bockwinkel. Tsuruta also faced many top challengers for the AWA title in his native Japan.
WWF owner Vince McMahon had already raided several key pieces of AWA talent including Hulk Hogan, Jesse Ventura, David Shultz and announcer Mean Gene Okurlund. Verne Gagne knew he could not afford to lose any more wrestlers to McMahon. So when the WWF began courting AWA babyface Rick Martel, Verne promised Martel the AWA title to keep Rick from jumping to the WWF. Martel agreed not to leave the AWA and Verne Gagne kept his word. As a result, Rick Martel beat Jumbo Tsuruta on May 13th, 1984, in Minneapolis, Minnesota to become the AWA heavyweight champion of the world.
Rick Martel was a very capable wrestler. He could go move for move with any wrestler in the sport. However, there was one huge drawback to Rick Martel and that was that he could not cut a good babyface promo. Martel did not excite the fans enough to make them see his title defenses. Rick came off as bland compared to WWF champion Hulk Hogan and NWA champion Ric Flair.
The Sheiks, Jerry Blackwell and Ken Patera, kept a stronghold on the AWA tag team titles ever since winning them from Greg Gagne and Jim Brunzell. Every time Blackwell and Patera would be in danger of losing the tag straps, their manager Sheik Adnan El Kaissee would interfere allowing his charges to retain their tag team titles. Jerry and Ken seemed destined for a lengthy title reign. Then something outside the ring happened which would change Ken Patera's life forever.
On the night of April 6th, 1984, Ken Patera and Mr Saito went to a McDonalds in Waukesha, Wisconsin and were denied service by the McDonalds employees. Ken became incensed and hurled a 30 pound rock through the window of the fast food establishment. Patera and Saito then returned to their hotel next door. Two Waukesha police officers arrived at the hotel to question the wrestlers. Patera and Saito resisted arrest and attacked the police officers, one of whom was a 19 year old female. The female police officer received several broken teeth and a ruptured appendix while her male counterpart suffered a broken leg. Patera and Saito were eventually subdued by many other police officers and were taken to jail. With all the bad press this incident received, it was time for Patera to leave the AWA. So he and Blackwell dropped the AWA tag team titles to the Crusher and Baron Von Raschke on May 6th, 1984, in Green Bay, Wisconsin. Patera left the AWA for the WWF soon afterwards. Several months later, Patera and Saito were sent to jail and ended up serving 18 months in the slammer.
With all the defections to the WWF, Verne Gagne needed new talent to fill the void. Two well-known tag teams were brought to the AWA. The Fabulous Ones, Steve Keirn and Stan Lane, came to the AWA from Memphis, Tennessee where they were the most popular tag team in the history of that territory. The Road Warriors, Hawk and Animal, were imported to the AWA from Georgia and were seen as future superstars. A natural rivalry developed between the two outstanding tag teams. The Fabs were well dressed ladies men while the Warriors were muscular ass kicking bikers. Hawk and Animal wasted no time in making an impact in the AWA defeating the Crusher and Baron Von Raschke for the AWA tag team titles on August 25th, in Las Vegas, Nevada.
More...

KM DVD/VHS Store 4
Click here to purchase DVD or VHS products direct from the official distributors.
KM Replica Masks 4
Click here to purchase pro quality replica wrestling masks of all your favorite old school masked wrestlers.
KM Store 4
The KM Store now features products featuring the GCW logo as well as some other very cool images. To see what's new and to purchase T-Shirts, ball caps, mouse pads and more, click here.
KM Message Board 4
Want to chat with other fans of regional wrestling? This message board has forums for over two dozen promotions. Click here.
KM Belt Gallery 4
This section contains an extensive title belt gallery... images of heavyweight, tag, U.S. and various regional title belts. To view it, click here.
Old School Tape Review 4
Reviews of various PPV's, commercial tapes and regional wrestling TV shows are available in this section. To read more, click here.
Website designed & maintained by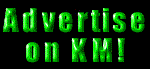 Thanks for visiting!