Regional Territories 4
This section contains monthly articles on over two dozen territories. To relive those wonderful days of old, click here.
Wrestlers 4
Enter this section for bios/profiles of various wrestlers from the regional days. To find more out about your favorite pro wrestler, click here.
Stories 4
This section contains stories from the pros themselves told exclusively to Kayfabe Memories. Want to know more as told from the wrestlers themselves? Click here.
Old School Book Reviews4
Click here to find various book reviews from old school wrestlers.
KM Links 4
For tons of links to old school related sites, click
here
.
KM Micro Wrestlers4
What are Micro Wrestlers? Click here
to find out.
KM Interviews... 4
Click here to read exclusive interviews with stars from the regional territories.
www.kayfabememories.com is © 2004 AtomDesigns. All promotional art, characters, logos and other depictions are © their respective owners. All Rights Reserved.
All contents save Wrestler Stories are © Kayfabe Memories.
Website designed and maintained by AtomDesigns © 2004 . If you experience any problems with this site or have any questions, please contact the Webmaster.
- Jim Zordani

I hope everyone enjoyed last month's coverage on Nick Bockwinkel's matches in Toronto. As mentioned previously, Nick traveled more to other territories than any other AWA champion in the company's

illustrious history. While I'll touch some on Bockwinkel's bouts in Atlanta, Memphis, Houston, Honolulu and Japan during 1978 in this month's column, the main focus will be on the wrestlers Nick battled in the AWA during the year 1978.

Nick Bockwinkel and the Crusher had a heated rivalry dating back to the early 70s. Even though the Crusher was getting well up there in years and had slowed down a few steps by the time 1978 rolled around, he was still very popular and fans would flock to see him challenge Bockwinkel for the AWA title. Crusher did manage a few non title cage match victories over Nick but in AWA title bouts against Bockwinkel, it was a different story as Nick always held onto the strap.

The very charismatic Rufus R Railroad Jones made his AWA debut in January of 1978. Jones, a heavy set black wrestler who was a huge star in the Central States region for many years, immediately embarked on an impressive winning streak beating such stars as Pat Patterson, Ray Stevens, Angelo Mosca, Bobby Duncum and Buddy Wolff. Rufus challenged Nick Bockwinkel for the AWA strap many times in the summer of 1978. Though Rufus R Jones gave Bockwinkel some anxious moments, the immensely popular black star came up short in his pursuit of the AWA's top prize.

The legendary Indian star Wahoo McDaniel returned to the AWA in July of 1978 not only to go after Nick

Bockwinkel's treasured AWA title but to also team with young Indian star Frankie Hill (later known as Jules Strongbow in the WWF) in an attempt to make Hill a star. Wahoo had been a major player in the AWA during the early 70s feuding with the likes of Superstar Billy Graham, Luscious Larry Heiniemi and Beautiful Buddy Wolff and teaming with a variety of partners including Cowboy Bill Watts, Billy Robinson, the Crusher and Dick the Bruiser against then AWA tag team champions Nick Bockwinkel and Ray Stevens. So McDaniel and Bockwinkel were not strangers and this familiarity led to exciting, competitive matches between the two.

Like countless other before him, Wahoo McDaniel came within a hair of defeating Nick for the AWA title but in the end Wahoo could not get the job done.

When Jim Brunzell injured himself playing softball during early September of 1978, he and partner Greg Gagne could no longer defend the AWA tag team titles.

The AWA stripped the High Flyers of the AWA tag straps and awarded the belts to Pat Patterson and Ray Stevens on September 23rd, 1978. With Brunzell missing six weeks of ring action due to injury and as a result no longer having to defend the AWA tag team titles, Greg Gagne was free to compete in singles competition and challenge Nick Bockwinkel for the AWA heavyweight championship. Greg faced Nick several times during the second half of 1978 but the wily Bockwinkel could not be beaten for the AWA belt.

For many years, the AWA offered a substantial cash prize to a wrestler who won an over the top rope Battle Royal. During the mid to late 70s, the AWA changed it's reward to the winner of a Battle Royal from a boatload of money to a title shot against Nick Bockwinkel at the next house show card. The wrestler this affected the most was Andre the Giant. Andre would come to most of the AWA's major cities a few times a year and frequently would compete in Battle Royals. Winning Battle Royals became Andre's way of earning title shots against Bockwinkel and that's exactly what happened in Omaha and Minneapolis during the latter part of 1978. Andre won a Battle Royal in Omaha on October 24th and fought Bockwinkel to a no contest on the November 3rd Omaha card. On October 27th in Minneapolis, Andre prevailed in a Battle Royal to earn a shot against Nick on the November 5th card in St Paul which saw the two combatants battle to a draw.

More...

If you'd like to discuss the AWA region with other fans, please visit the KM Message Board

KM DVD/VHS Store 4
Click here to purchase DVD or VHS products direct from the official distributors.
KM Replica Masks 4
Click here to purchase pro quality replica wrestling masks of all your favorite old school masked wrestlers.
KM Store 4
The KM Store now features products featuring the GCW logo as well as some other very cool images. To see what's new and to purchase T-Shirts, ball caps, mouse pads and more, click here.
KM Message Board 4
Want to chat with other fans of regional wrestling? This message board has forums for over two dozen promotions. Click here.
KM Belt Gallery 4
This section contains an extensive title belt gallery... images of heavyweight, tag, U.S. and various regional title belts. To view it, click here.
Old School Tape Review 4
Reviews of various PPV's, commercial tapes and regional wrestling TV shows are available in this section. To read more, click here.
Website designed & maintained by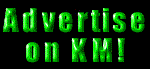 Thanks for visiting!