Regional Territories 4
This section contains monthly articles on over two dozen territories. To relive those wonderful days of old, click here.
Wrestlers 4
Enter this section for bios/profiles of various wrestlers from the regional days. To find more out about your favorite pro wrestler, click here.
Stories 4
This section contains stories from the pros themselves told exclusively to Kayfabe Memories. Want to know more as told from the wrestlers themselves? Click here.
Old School Book Reviews4
Click here to find various book reviews from old school wrestlers.
KM Links 4
For tons of links to old school related sites, click
here
.
KM Micro Wrestlers4
What are Micro Wrestlers? Click here
to find out.
KM Interviews... 4
Click here to read exclusive interviews with stars from the regional territories.
www.kayfabememories.com is © 2004 AtomDesigns. All promotional art, characters, logos and other depictions are © their respective owners. All Rights Reserved.
All contents save Wrestler Stories are © Kayfabe Memories.
Website designed and maintained by AtomDesigns © 2004 . If you experience any problems with this site or have any questions, please contact the Webmaster.
- Ashley Parrish
I discovered that wrestling in West Texas was extraordinary in the summer of 1972. My parents had moved to Fort Worth from Lubbock several years earlier, but most of our family remained in Lubbock. Consequently, school holidays and summer vacations were spent in Buddy Holly's hometown. I was eight years old at the time and was vaguely aware that a wrestling program was televised in Lubbock on Saturday afternoons. Having been converted to a grappling fan from watching the Saturday night wrestling program in Fort Worth, I eagerly accepted an invitation from by Great Grandfather to watch a little wrestling with him. What an experience it was! I didn't see the familiar faces from Fort Worth like Johnny Valentine, Wahoo McDaniel and Fritz Von Erich. In fact, I can scarcely remember who I saw wrestling on that program. The specifics are a little fuzzy, but something about a Karl von Steiger heart punch laying out Ricky Romero and Lord Alfred Hayes sounds familiar. But, what I do remember, even after 28 years, is the action, characters, drama and humor that drew me into what I consider to be the greatest wrestling promotion ever created.
The Amarillo booking office promoted wrestling in several cities in the Southwest, including Amarillo, Lubbock, El Paso, Abilene, Odessa, Albuquerque and Colorado Springs. Occasionally, spot shows were promoted in smaller towns such as Lamesa, Texas, Hereford, Texas and Hobbs, New Mexico. Promoters for the region included Nick Roberts (Lubbock), Pat O'Dowdy (Odessa), Mike London (Albuquerque), Gory Guerro (El Paso), Don Slatton (Abilene) and Jerry Kozak (Amarillo). A weekly one-hour television show for the promotion was filmed in Amarillo and broadcast throughout west Texas, New Mexico, and southern Colorado. The great Steve Stack hosted the television program for most of the 1970's after taking over the announcing duties from Nick Roberts. The show consisted of studio matches; film clips from big house show matches, interviews, and an occasional clip from a significant match from another region.
In many respects the promotion was typical. One family, however, differentiated Amarillo from any other wrestling territory. Of course, that family is the Funks and the Funk name is the common thread which runs through the historical fabric of wrestling in Amarillo.
The significance of the late 1940's in Amarillo wrestling history cannot be overstated. Wrestling had been present in Amarillo before that time with stars such as Dutch Mantel and Cal Farley, but it would never be the same afterwards. In 1947, Dory Funk, Sr., made his debut at the Tri-State Fairgrounds Sports Arena. Dory, Sr., grew up in Hammond, Indiana. He graduated from Hammond High School and won three Indiana state wrestling championships in his 165-pound weight class. After graduation, he attended Indiana University on both football and wrestling scholarships. His collegiate career was spent under the tutelage of the legendary coach, Billy Thom. After college, Dory married and enlisted in the Navy three years later. During most of World War II, Dory was stationed on an LSM naval ship near the Philippines. After the war, Dory's professional wrestling career began.
During the mid to late '40's, Dory, his wife Betty, and sons Dory, Jr. and Terry traveled throughout the country, stopping in towns where Dory had a wrestling engagement. The family lived in a trailer pulled behind an Oldsmobile '88. Often, Dory would come back from the matches with a fellow grappler in tow. Men like Benny Trudell, Herb Parks, Frankie Hart, Alex Kasboski, Frankie Murdoch, George Overhauls, Kenji Shibuya, Danny McShane, Dizzy Davis, Roger Mackey, Ruffy Silverstein, Tony Morelli, Ace Abott, Cowboy Carlson, Bob Geigel, Billy Weidener, Gorilla Pogee, Bob Cummings, Lou Thesz and Strangler Lewis made their way back to the Funk trailer. The young Funk boys were a captive audience for the story-telling which ensued on topics such as the Great Depression, World War II and, of course, wrestling. Though the family couldn't have had much room, the trailer provided the setting for countless fond memories. As Terry stated in his reflections prior to his final match in Amarillo, "listening to those stories was life at its best." More...

KM DVD/VHS Store 4
Click here to purchase DVD or VHS products direct from the official distributors.
KM Replica Masks 4
Click here to purchase pro quality replica wrestling masks of all your favorite old school masked wrestlers.
KM Store 4
The KM Store now features products featuring the GCW logo as well as some other very cool images. To see what's new and to purchase T-Shirts, ball caps, mouse pads and more, click here.
KM Message Board 4
Want to chat with other fans of regional wrestling? This message board has forums for over two dozen promotions. Click here.
KM Belt Gallery 4
This section contains an extensive title belt gallery... images of heavyweight, tag, U.S. and various regional title belts. To view it, click here.
Old School Tape Review 4
Reviews of various PPV's, commercial tapes and regional wrestling TV shows are available in this section. To read more, click here.
Website designed & maintained by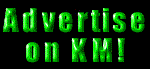 Thanks for visiting!