Regional Territories 4
This section contains monthly articles on over two dozen territories. To relive those wonderful days of old, click here.
Wrestlers 4
Enter this section for bios/profiles of various wrestlers from the regional days. To find more out about your favorite pro wrestler, click here.
Stories 4
This section contains stories from the pros themselves told exclusively to Kayfabe Memories. Want to know more as told from the wrestlers themselves? Click here.
Old School Book Reviews4
Click here to find various book reviews from old school wrestlers.
KM Links 4
For tons of links to old school related sites, click
here
.
KM Micro Wrestlers4
What are Micro Wrestlers? Click here
to find out.
KM Interviews... 4
Click here to read exclusive interviews with stars from the regional territories.
www.kayfabememories.com is © 2004 AtomDesigns. All promotional art, characters, logos and other depictions are © their respective owners. All Rights Reserved.
All contents save Wrestler Stories are © Kayfabe Memories.
Website designed and maintained by AtomDesigns © 2004 . If you experience any problems with this site or have any questions, please contact the Webmaster.
- Ashley Parrish
In Amarillo, a brass knuckles match meant one thing: a bloody brawl. You wouldn't see a host of scientific moves or graceful acrobatics on display. Rather, two combatants with taped fists would square off in a bout where closed-fisted punches were legal and proceed to pound the hell out of each other. Sometimes the bout would have a series of rounds like a boxing match. On other occasions the match would have no time limit. A brass knuckles match was often booked to settle or enhance a feud. The participants were the toughest of the tough.
The brass knuckles belt in Amarillo was spectacular. In addition to having a prominent identifying plate at the buckle, several pairs of brass knuckles were attached to the leather waistband. The list of champions reads like a hall of fame roster from the territory: Dory Funk, Sr., Dory Funk, Jr., Terry Funk, Cyclone Negro, Dick Murdoch, Thunderbolt Patterson, Killer Karl Kox, Ray Stevens, etc. For current fans, I would compare it to the hardcore title. However, I would assert that the brass knucks belt in Amarillo had more significance.
I'm not sure about the origins of the match. If anyone knows, post a message on the board. I assume it was a match created to cater to those fans who felt boxing had been emasculated by the introduction of gloves. I'm also unsure of the first champion in Amarillo. Again, anyone who knows, post a message. In the book Wrestling Title Histories, Duncan and Will's first entry for the belt is Thunderbolt Patterson in October, 1967.
T-bolt had a great run in the territory. Usually the heel, although occasionally a face, he feuded with the top names in the territory. He had great matches with the Funks. He also made the save for Terry Funk in a great Russian Chain match against Pak Song. Patterson held the title on four different occasions from 1967 to 1970. He successfully defended the title against foes like Alex Perez, the tough veteran who would later become a ref in the promotion. T-bolt "knocked out" Alex in the fifth round of a title match in Amarillo in January 1968. Kurt von Brauner ended T-bolt's second reign with the belt (Dr. Blood ended the first), but T-Bolt would regain the belt before the end of May. T-Bolt also had a habit of using brass knucks in his matches. He gained victories over Ricky Romero and Nick Bockwinkle with the help of his favorite foreign object.
More...
If you'd like to discuss the Amarillo region with other fans, please visit the KM Message Board

KM DVD/VHS Store 4
Click here to purchase DVD or VHS products direct from the official distributors.
KM Replica Masks 4
Click here to purchase pro quality replica wrestling masks of all your favorite old school masked wrestlers.
KM Store 4
The KM Store now features products featuring the GCW logo as well as some other very cool images. To see what's new and to purchase T-Shirts, ball caps, mouse pads and more, click here.
KM Message Board 4
Want to chat with other fans of regional wrestling? This message board has forums for over two dozen promotions. Click here.
KM Belt Gallery 4
This section contains an extensive title belt gallery... images of heavyweight, tag, U.S. and various regional title belts. To view it, click here.
Old School Tape Review 4
Reviews of various PPV's, commercial tapes and regional wrestling TV shows are available in this section. To read more, click here.
Website designed & maintained by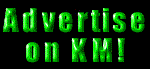 Thanks for visiting!